Celebrity Couples Then And Now: Who Has Changed The Most?
Zoe Saldana & Marco Perego-Saldana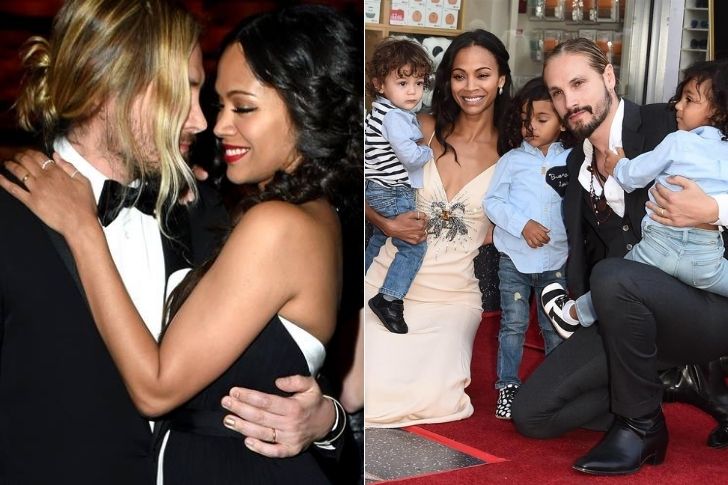 Zoe Saldana and Marco Perego-Saldana get credit for being praiseworthy partners. Why? They support each other and are one of the most modern couples out there. Their parenting ways are just one example.
The pair has been raising their sons, Zen and the twins Cy and Bowie, in a gender-neutral environment. Zoe and Marco let their kids play with toys that are associated with both boys and girls. They have also ditched the traditional gender roles at home. Marco does chores typically done by women, while Zoe carries out male-associated house activities, practicing genderfluidity in their family. The duo sees the importance of having this type of household and letting their kids grow in this kind of environment in this day and age. Zoe and Marco try to break the stereotypes in the best way that their children can understand.
Prince William & Kate Middleton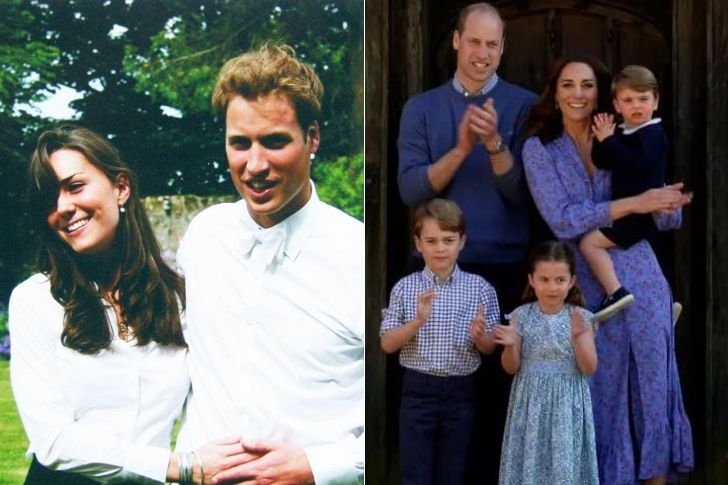 Kate Middleton and Prince William are one of the most celebrated celebrity couples in the world. However, just like regular couples, they started out as college friends and soon turned their bond into a romantic relationship. While they were working on their degrees, they found themselves falling in love with each other.
The two started dating in college and continued to do so until after they graduated. Although they took a brief break from their romance, they ultimately reconciled. This soon led to a royal engagement. Of course, we all know what happened after this—a royal wedding. Prince William and Kate tied the knot in 2011 in a ceremony that was broadcast all over the world. They eventually welcomed three kids: Prince George, Princess Charlotte, and Prince Louis. William and Kate are now celebrating a decade of marriage and almost two decades of romance.
Patrick Dempsey & Jillian Fink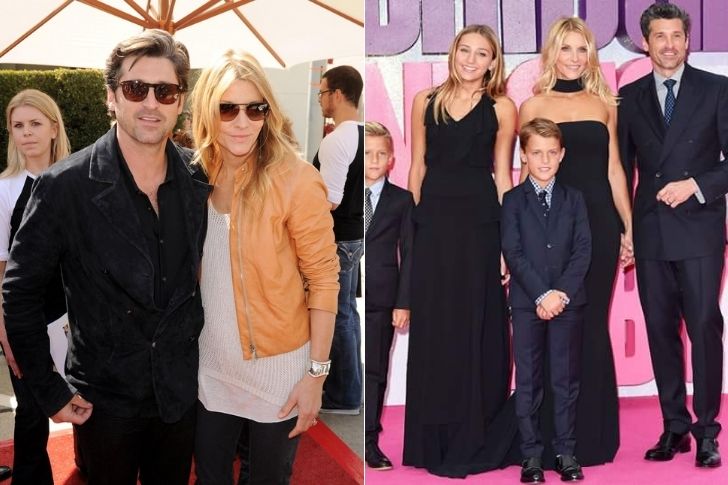 Patrick Dempsey and Jillian Fink realized how much they love each other when they almost ended their marriage with the help of their lawyers in 2015. The couple got married in 1999, and after 16 years, they briefly put a pause in their relationship. Just when they were about to make their separation official, they realized that they were not yet ready to give up on their love.
They thought of their three kids and the work they have done to build their lives together. Eventually, they rekindled their romance and started anew. Dempsey made some sacrifices for their marriage to work out. He stepped back from his team, Dempsey-Proton Racing, and stopped racing in 2016 to focus on his kids, family, and acting career. The actor knew he could not do everything at once, so he prioritized and concentrated on what was more important.
Ozzy & Sharon Osbourne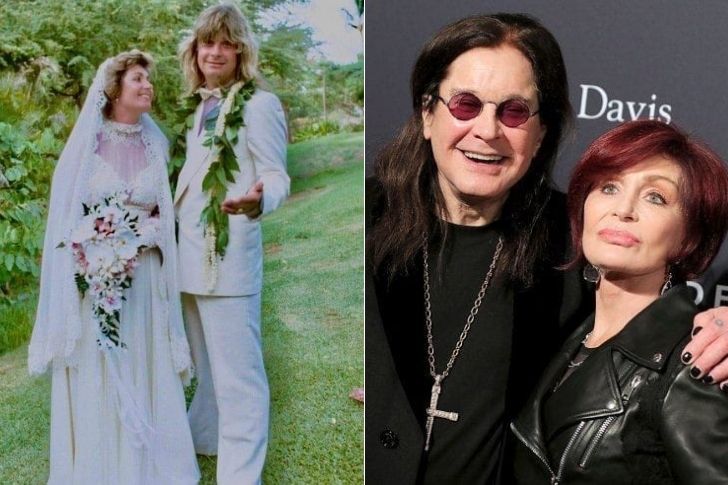 Despite the many controversies they have gotten involved in, Ozzy and Sharon Osbourne have remained on each other's side. Cheating allegations have surrounded their relationship, along with news of their split. They have both fought for their relationship amid the many ups and downs in their lives and have stayed married for 39 years.
Ozzy was first married to Thelma Riley, but they ended their romance in 1982. The rock icon then met Sharon around the 1970s, and their friendship turned romantic in 1979. They tied the knot in the same year his first marriage officially ended. They went on to have three kids: Aimee, Kelly, and Jack Osbourne. One of the many things that threatened to end their union was when Ozzy attacked Sharon. Although he was arrested and had needed the help of his attorney, the TV personality chose to stay married to him.
Oprah Winfrey & Stedman Graham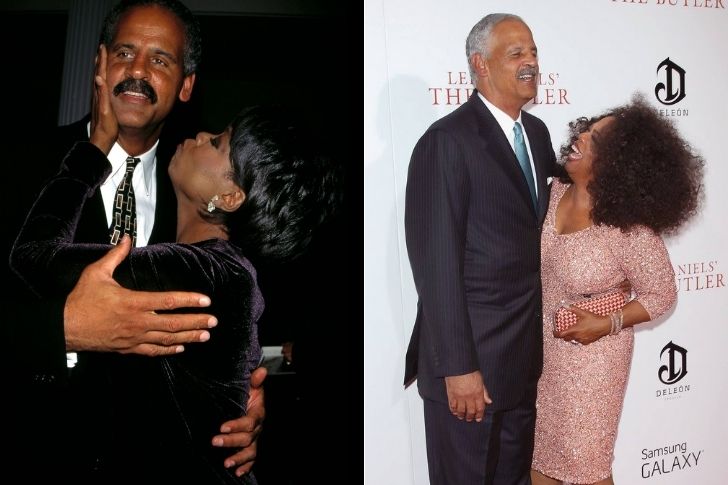 Oprah Winfrey and Stedman Graham are an excellent example of a genuine partnership. These two are not married, but they have remained together for 35 years. While they could have afforded to fund a lavish wedding, they had chosen not to wed. For them, tying the knot would only make things more complicated. They believe that their relationship may not have lasted if they had gotten hitched, so they had chosen to live at ease and save themselves from potentially calling their lawyers.
Winfrey and Graham started dating in 1986 after meeting each other while visiting a sick mutual friend. In 1992, he popped the question, and although the famed TV personality accepted, they chose to stay unmarried.
Nicole Richie& Joel Madden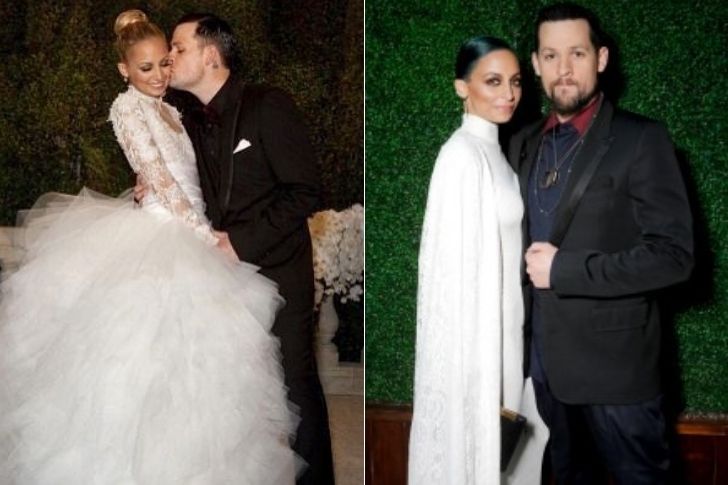 Nicole Richie knows she and her husband, Joel Madden, are different from each other, but they still managed to hit it off. They are an embodiment of the idiom "opposites attract," and they have let time unfold what is in store for them. Richie gave Madden a chance to show his true intentions, while he worked hard to prove the connection he felt they had.
The Good Charlotte vocalist credits his wife for being the only other person who profoundly influences his life like his brother Benji. He is proud that he has married his best friend. They now have two kids, Harlow and Sparrow Madden. Madden's life dramatically changed after he met Richie. In fact, he compared it to a religious experience—like a life-changing, cathartic event. Right then and there, he knew she would be his wife. Richie and Madden got hitched in 2010.
Michelle Pfeiffer & David E. Kelley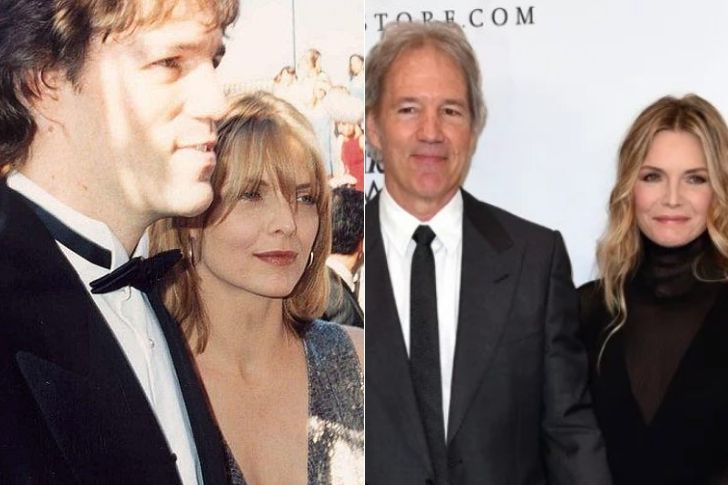 Michelle Pfeiffer does not only have a successful career, but she also has a long-lasting romance with David E. Kelley, proving marriages can last in Hollywood. Kelley also works in the show business as a TV writer and producer. He is also a former attorney. The couple tied the knot in 1993 and now share two kids, John and their adopted daughter Claudia.
Pfeiffer and Kelley are considered a powerhouse Hollywood couple. Did you know that the start of their romance was unconventional? During the beginning of their relationship, they already had Claudia. Although it looked strange for some, they could not deny that it helped them become much closer. After only ten months of dating, they decided to wed. If there is one thing that Pfeiffer greatly admires about Kelley, it is how he makes her see the difference between a boy and the man that he is.
Michael Jordan & Yvette Prieto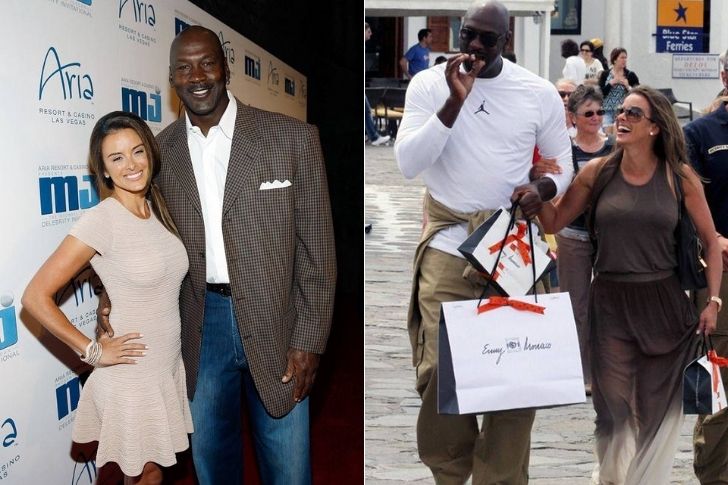 Michael Jordan was quickly smitten by his second wife, Yvette Prieto, after meeting her in a Miami nightclub in 2008. They hit it off and dated for three years until the NBA legend asked for her hand in marriage. The Cuban beauty gave him the sweetest yes, and they got married in front of 300 people at Bethesda-by-the-Sea in Palm Beach, Florida.
After seven months, they welcomed their kids, the beautiful twins Victoria and Ysabel. Jordan and Prietto have been trying their best to keep their kids out of the public's eye. They, too, became private about their romance. They have been keeping things to themselves but only to a certain degree, as there are still instances where they are seen out and about. In their eight years of marriage, Jordan and Prieto remain sweet on each other.
Michael J. Fox & Tracy Pollan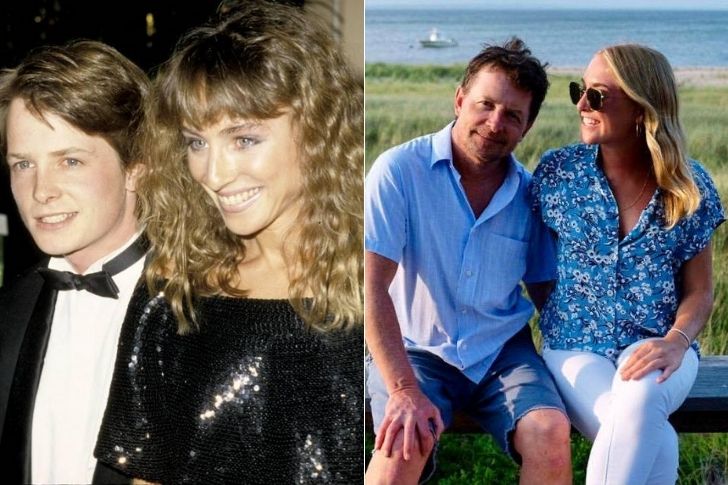 Michael J. Fox is married to the one and only Tracy Pollan. The two first met on the set of Family Ties. Although the characters they portrayed in the sitcom did not end up with each other, the actors made their love real, but it did not happen right away. They went through a lot of hurdles and were linked to other entertainment personalities.
Despite these things, Fox and Pollan managed to fight for their love, and the former Prince of Hollywood proposed in 1987, seven months after they officially started dating. They eventually exchanged their "I dos" in 1988, trying to make the event as private as possible. Since then, they have enjoyed each other's company. The degree of love they have has given them a marriage that has thrived for 33 years. The two also have four beautiful kids.
Michael Douglas & Catherine Zeta-Jones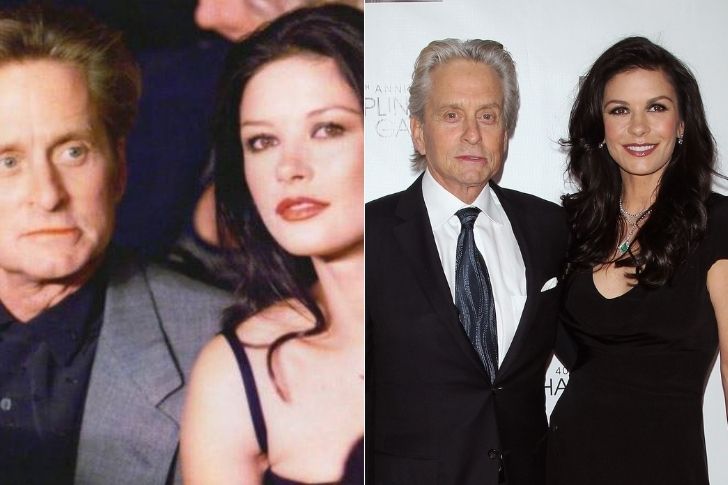 Many believe Michael Douglas and Catherine Zeta-Jones's marriage will not last, but they have defied criticisms and the negative connotation of Hollywood marriage. Despite a huge age gap and celebrity status, the pair has remained deeply in love with each other. They have been married for 21 years and now share two kids: Carys Zeta, and Dylan Michael Douglas. What is their secret?
According to Zeta-Jones herself, it is nothing but "maintaining a strong connection." The actress said that though her husband is 25 years her senior, they always have a lot of fun together. Love and respect are always the constant things in their relationship, and they never lost their sense of humor. In their decades together, Douglas and Zeta-Jones continuously enjoy each other's company. They never mind spending extra cash on gas to spend a lot of time together, always taking advantage of the free time they both have.
Meryl Streep & Don Gummer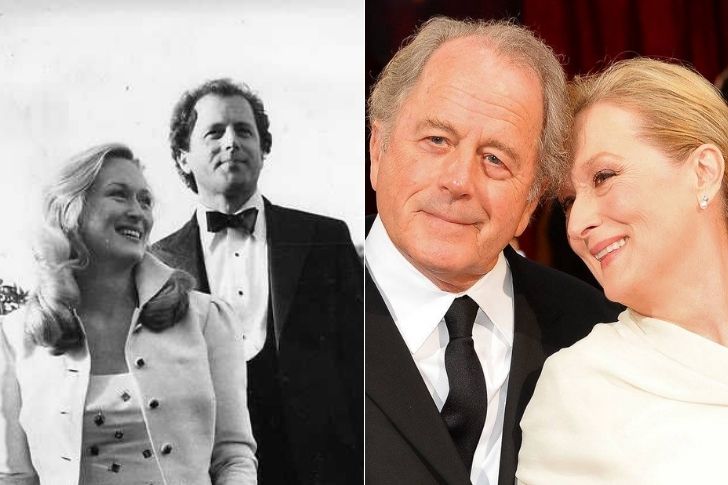 One great example of long-lasting Hollywood marriage is Meryl Streep and Don Gummer. They have stood each other's side for more than four decades. Their love differs from other celebrities who will marry and call their lawyers for a legal separation. They got hitched in 1978, and have since attended every public event with each other. They will effortlessly steal the spotlight, looking so loved-up whenever they are together.
In Streep's 2012 Academy Awards speech, she thanked Gummer at the beginning of her spiel as she knew they would play him out with the music if she did it in the end. She wanted everyone to know how lucky she was with her husband, revealing everything that she had valued in life was from him. Aside from a life full of happiness and love, Streep and Gummer share four kids: Henry Wolfe, Mamie, Grace, and Louisa.
Mel Gibson & Rosalind Ross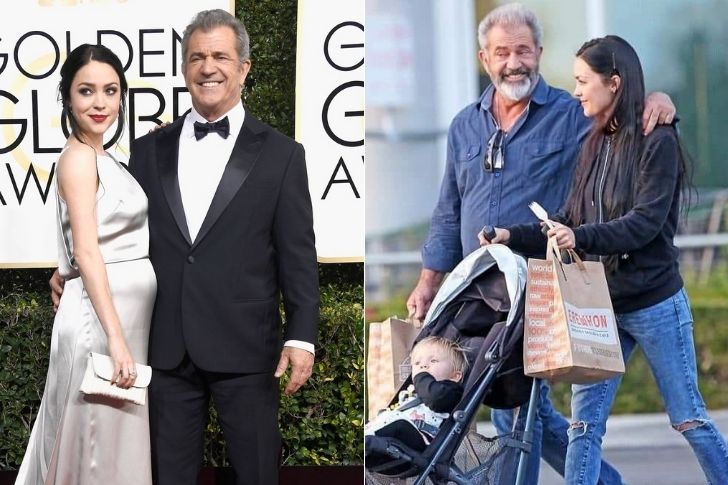 Mel Gibson and Rosalind Ross have defied a lot with their love. The 65-year-old star has been defending their romance, knowing he is 35 years old older than his lady love. They did not mind the huge age gap between them, and Gibson even sees Ross as a very "special person." For him, age is just a number. They both dig each other, and things are working out great for them.
The pair started dating in 2014. They first met when Ross was finishing her literature degree and working as a screenwriter. She was signed to co-write a script for the iconic actor's production company. Since they started working together, the couple developed an instant connection. Their seven years of romance is continuously growing stronger over time. Though they are yet to tie the knot, fans may soon hear some wedding bells.
Megyn Kelly & Douglas Brunt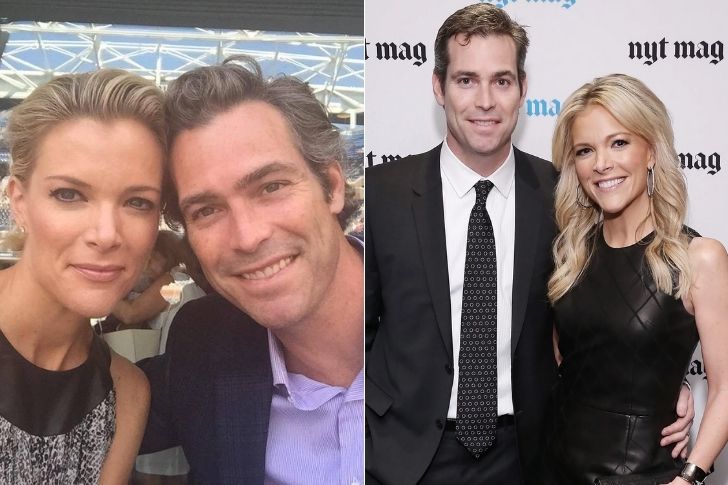 Megyn Kelly and Douglas Brunt have a cute love story to tell. The two met on a blind date, but she asked her friend to scope out Brunt before she arrived, and their date could push through. The ever-faithful pal did so and described him as "super cute." The date went on, and from there, the rest is history.
Despite his good looks, though, Kelly revealed Brunt's sincerity made her fall in love. He will listen to everything she has to say. The famed journalist even describes him as clever and someone who has a great sense of humor. However, the couple got into a big fight before that they almost canceled their marriage. After a heart-to-heart talk, they realized the degree of love they have for each other. Brunt eventually asked her for her hand in marriage, to which, of course, she said yes. Come 2008, they tied the knot and now share three kids.
Megan Rapinoe & Suzanne Brigit Bird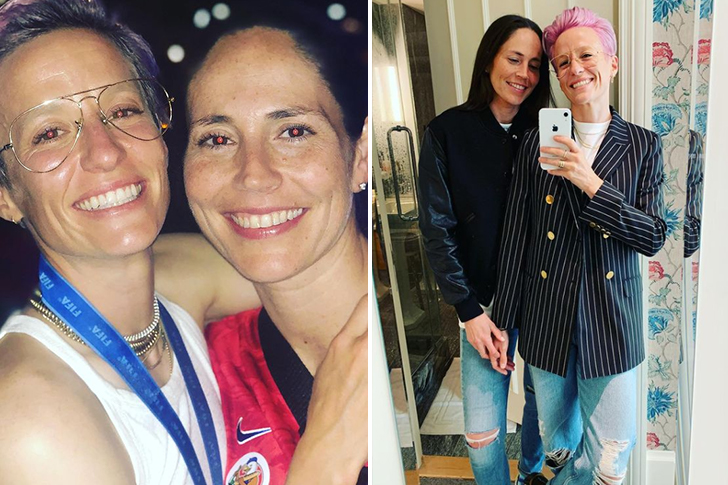 Megan Rapinoe and Suzanne Brigit Bird get credits for being the most beloved power couple in sports within the LGBTQ community. They are two of the biggest sports stars in Seattle, and they have an incredible love for each other. Sure, they both know each other with their fame, but they did not get to know more of one another until they personally met in 2016. At the time, they attended the same sponsored event at the Rio Olympics and quickly hit it off. By September, they started dating, and after just over a year, they moved in together.
Bird is a two-time WNBA champion, a four-time Olympic gold medallist, a three-time FIBA World Champion, and has won two NCAA titles at UConn. Rapinoe, alternatively, is an Olympic gold medallist, a gold and silver Women's World Cup medallist, and has also won an NCAA title.
Maya Rudolph & Paul Thomas Anderson

Maya Rudolph perfectly knows how to make everyone laugh as one of the formidable comedians in the business, but it is just one of the many things she can do. Fans will surely fall in love with the 48-year-old star's love story with Paul Thomas Ande
rson. These two have been together since 2001, and though they are yet to tie the knot, it looks like they don't need to seal their love with marriage.
The couple is very confident in their love for each other; Rudolph has said they are "not going anywhere" in their relationship. They call each other "husband" and "wife," which for them means they are the parents of their kids, living together, and indeed a pair. Today, Rudolph and Anderson have four kids, and these kids can assure of a bright future – away from any student loans after their mom said she never stops working even if she already has children.
Matt Damon & Luciana Barroso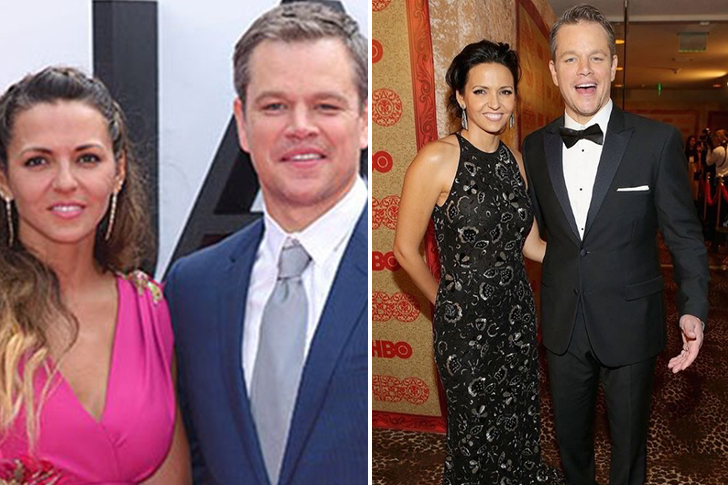 An incredible twist of fate led to Matt Damon and Luciana Barroso meeting each other. The actor was supposed to be in Hawaii to film the movie Stuck on You in 2003, but it was moved to Miami at the last minute. As the crew decided to go for a drink, the actor ended up in a bar where Barroso worked, and here, he saw his future.
Barroso, alternatively, revealed Damon approached her that night while trying to avoid fans. As his followers turned aggressive, he had to hide behind his now-wife's bar, and there, they started to talk. To make their first meeting more interesting, she even taught him to be a bartender and helped her to earn more cash. As everyone wanted to meet and greet Damon, credits cards were swiped here and there, and they even got tones of tips that night. 18 years later, Damon and Barroso are now married for 16 years and have three kids.
Martin Lewis & Lara Lewington

Martin Lewis has made a name as a financial expert who owns the website Money Expert Saving. He knows a lot from the financial aspects, like the mortgages, council tax, and more, but what interests fans the most is his wife, Lare Lewington. These two have been married for 12 years and shared one kid, Sapphire Susan Lewis.
In case no one knows, Lewington is also a TV presenter. She's a journalist and former weather presenter on Channel 5, who co-presents the BBC's technology program Click. In her time in the broadcasting world, the 42-year-old personality has been seen on ITV's The Impressionable Jon Culshaw, BBC Two's Newsnight, ITV's Britain's Best Dish, and BBC's Let's Dance for Sports Relief. Just like her husband, she has made a successful name in this business. Amid the many things said against Lewington, their time together and love for each other have proven the seriousness of their romance.
Mark Zuckerberg & Priscilla Chan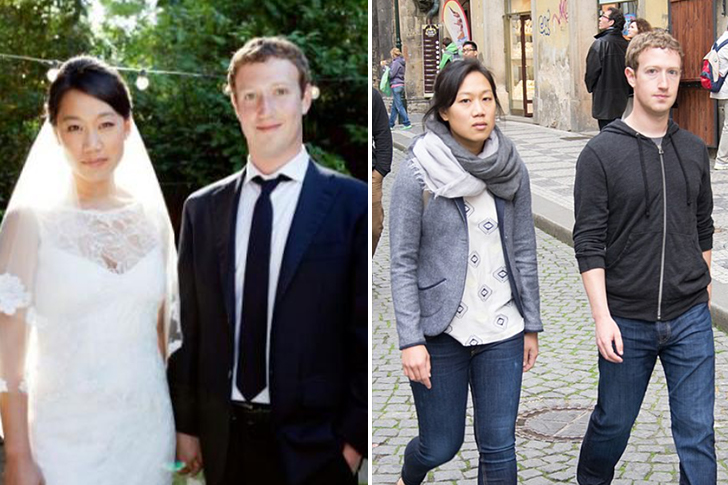 Mark Zuckerberg may have never gotten a degree from Harvard University, but at least he met his wife, Priscilla Chan, there. The couple started to know each other at a frat party in 2003. From here, a love grew that blossomed into a serious relationship and ended with a marriage in 2012. Although it took them a while before they officially tied the knot, the long wait was all worth it.
In their lengthy union, Zuckerberg has continued running Facebook. They then founded the Chan Zuckerberg Initiative and made millions of donations to their different philanthropic works. They did all of these while building a family of their own and traveling around the world while buying properties here and there. Sure, Zuckerberg and Chan may have been living the best life, but they never forget to give back to the world, which seems to be the center of their relationship.
Mark Harmon & Pam Dawber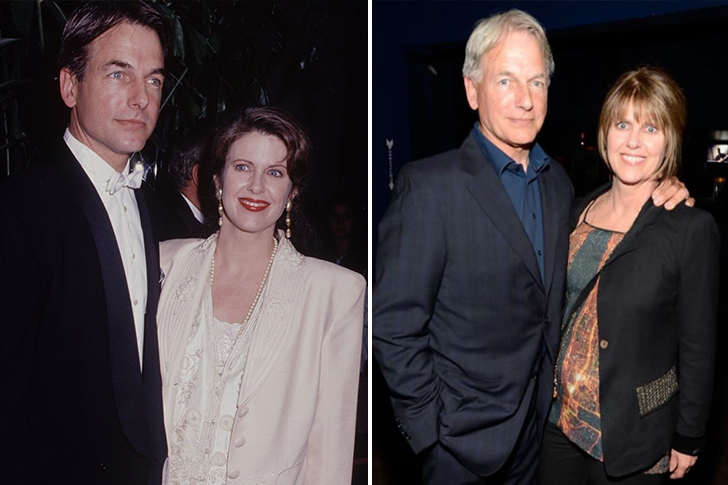 Mark Harmon has been receiving heaps of praise for his role as Leroy Jethro Gibbs in the long-running TV series NCIS, but he can also get credits for his lengthy relationship with Pam Dawber. The 69-year-old actor is only married once, and it looks like there is nothing that can end it.
Harmon and Dawber tied the knot in 1987. At the time, they were at the heights of their respective careers. The actor just finished his hit TV series St. Elsewhere, while his wife was part of the sitcom My Sister Sam. The couple did not let their big names affect their romance. Though these are yet to reveal their secret, it looks like their decision to make their relationship private has something to do with it. Even their wedding was "quiet and personal," attended by only a small group of family and friends.
Mark Consuelos & Kelly Ripa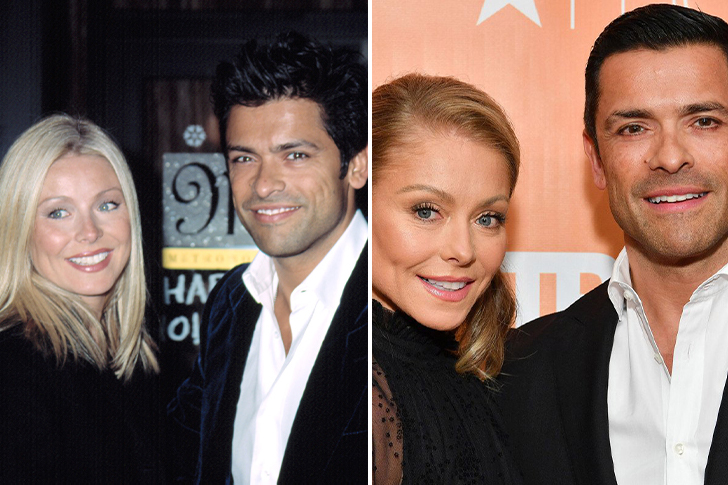 From the reel, Mark Consuelos and Kelly Ripa made their love real. They started as the cast members of the classic TV series All My Children, and from there, a new love had blossomed. Who would have taught that Consuelos and Ripa would end up with each other? In fact, the degree of their relationship has remained the same, from playing the role of onscreen lovers Mateo Santos and Hayley Vaughan to being Mr. and Mrs. Consuelos.
After they met on the set, the duo started dating secretly. However, seeing how beautiful Ripa was, Consuelos thought he would never stand a chance on her, so he didn't take their dating seriously. Anyhow, as they continuously got to know each other, they realized they were soulmates. Consuelos and Ripa tied the knot in 1996 and now have three kids. In their more than 25 years of togetherness, they are now considered one of Hollywood's power couples.
Marion Cotillard & Guillaume Canet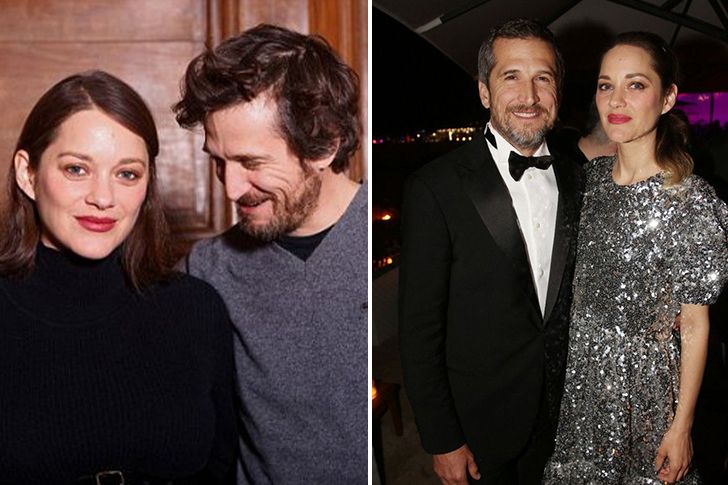 Marion Cotillard and Guillaume Canet have a good foundation for their romance before they seriously dive in. The couple has been friends for more than a decade before they started dating. They worked in a couple of movies before, like Love Me If You Dare in 2003 and The Last Flight in 2009.
As they never saw each other as lovers, Canet said he just found himself moving in a particular direction with Cotillard and woke up feeling like she's the love of his life. He admitted he never saw it coming. Come 2007, the two officially became partners, and though they are yet to get married, they have been living a couple's life. Cotillard and Canet now share two kids, Louise and Marcel. Despite the degree of rumors surrounding their romance, they have proven how strong their love is for each other with their 14 years of relationship.
Marie Osmond & Steve Craig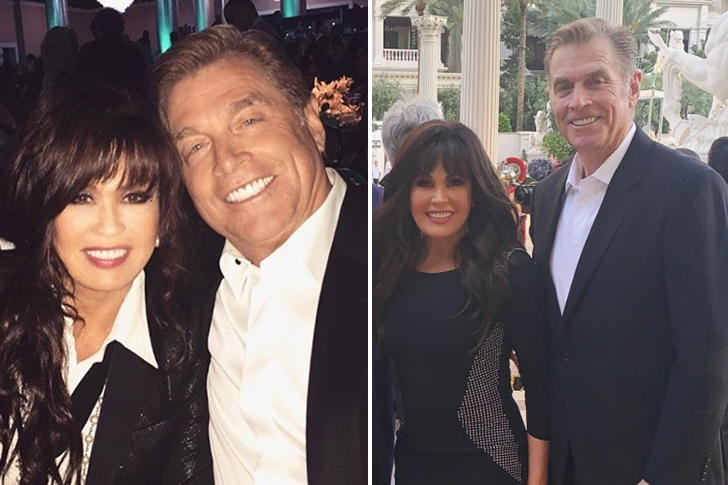 They say love is sweeter the second time around, and Marie Osmond and Steve Craig prove how true these words are. They first got married in front of 4,000 people in 1982, but something happened that turned their love around. After three years of marriage, they called up their lawyers and had their marriage ended.
Craig didn't marry anyone after their split, while Osmond tied the knot with Brian Blosil in 1986, which also ended in a separation. Fate seemed to have its own way to let these two reconnect, thanks to their son, Stephen. Osmond's father also played a part in their reunion, and she eventually gave their love a second chance. The 61-year-old singer saw her dad in Craig that made her fall in love once again. The two ended up remarried in 2011 on their son's birthday, making it more memorable and sentimental for them.
Margot Robbie & Tom Ackerley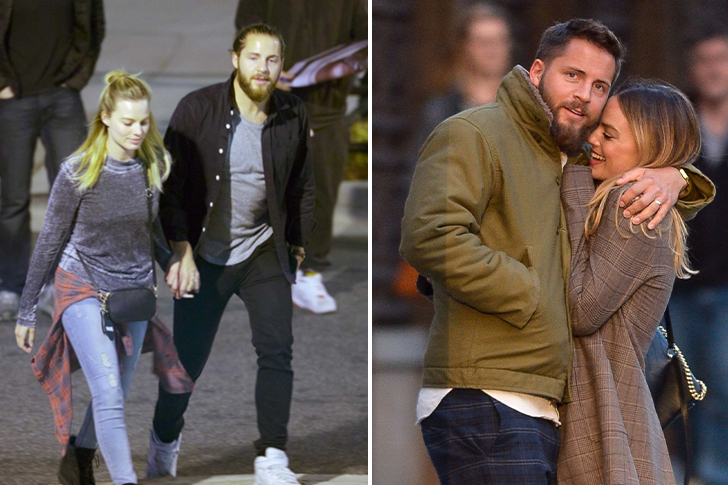 Sorry, guys! Margot Robbie is already married, and the lucky guy is Tom Ackerley. The two tied the knot in 2016 after they met on the set of Suite Francaise in 2013. Would you believe that Suicide Squad star was the one who pursued Ackerley at the time? Yep, Robbie proudly shared she had been in love with him to an incredible degree. She eventually convinced herself to tell him she liked him, and everything started to make sense.
As their relationship grew, Robbie and Ackerley got married in secret in her hometown of Dalby. The actress eventually confirmed the news in a post on Instagram, where she posted a photo of their sweet kiss and gave a look at their wedding ring. Robbie's mother walked her down the aisle while her sister Anya was her maid of honor. Anyhow, they have yet to have a kid of their own, but Robbie is reportedly open to start a family with Ackerley soon.
Maggie Gyllenhaal & Peter Sarsgaard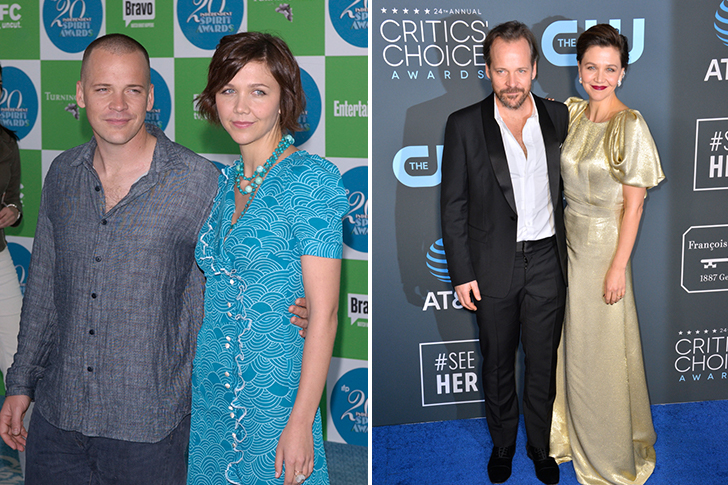 Maggie Gyllenhaal and Peter Sarsgaard started their lengthy romance in 2002. After four years, they eventually got engaged and tied the knot after another three years at a small chapel in Brindisi, Italy. The couple now shares two kids, Gloria Ray and Ramona.
Gyllenhaal and Sarsgaard are both hands-on parents who still help their kids with their homework. Despite their busy schedule, they still make time to be with their kids. The actress admitted Ramona is already learning more advanced math that she could not help her. However, the actress, who has a degree in literature, loves reading her assignments when it comes to her essays. Sarsgaard, alternatively, believes in the power of music, so he sees the importance of learning to read and play music just like knowing anything at school. With parents like them, Ramona and Gloria Ray are surely lucky ones.
Lisa Kudrow & Michel Stern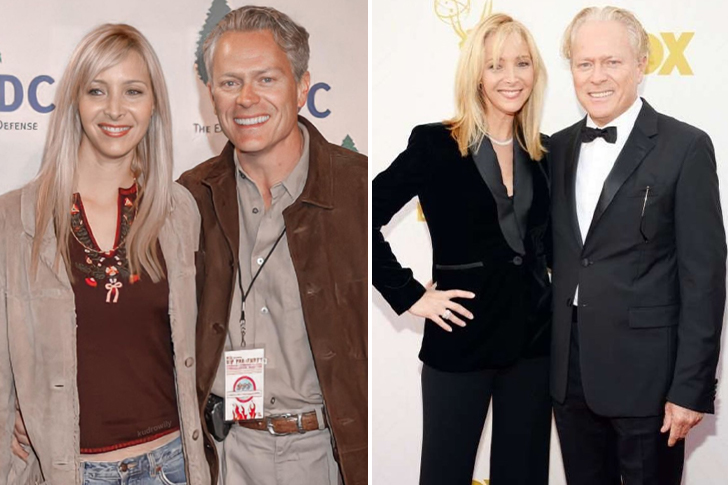 Lisa Kudrow is not only lucky in her career, but she has also found luck in the love department after she met her husband of 26 years, Michael Stern. The two met in the 1990s. At the time, he was dating her French roommate, so they had no chance to be with each other, but fate had its own way.
After Stern and Kudrow's roommate ended up their romance, the Friends alum crossed paths with him once again after six years. This time, they were both single. They became friends and eventually started to date. They sealed their love with a marriage in 1995, and since then, they became inseparable. Talking about their romance, Kudrow said they didn't promise to love each other, but they vowed to work on any problem that would come their way. They are both committed to their marriage to an incredible degree, so they have remained at each other's sides.
Lisa Bonet & Jason Momoa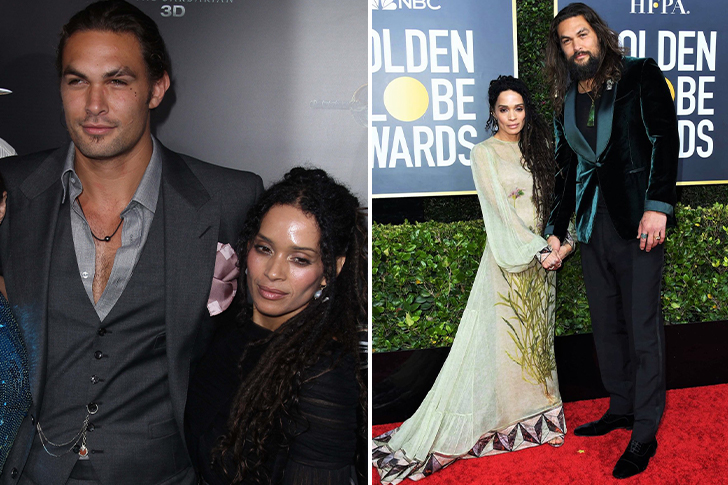 Lisa Bonet and Jason Momoa get credits for being one of Hollywood's most adorable pairs. They, too, are a power couple, being with each other for over a decade. Did you know it all started with a crush? The Game of Thrones star had a crush on Bonet when he first saw her on TV when he was a kid. At the time, he promised himself to stalk the actress and get her no matter what.
Despite seeing himself as a stalker, Momoa just wanted to express how much he wanted to meet her. Fortunately, they met at a jazz club in 2005 and from there, the rest was history. They started dating and officially became partners after that. They welcomed their first child in 2007 and their second kid after another year. Come 2017, they officially tied the knot, which made every woman envious of Bonet.
Leslie Mann & Judd Apatow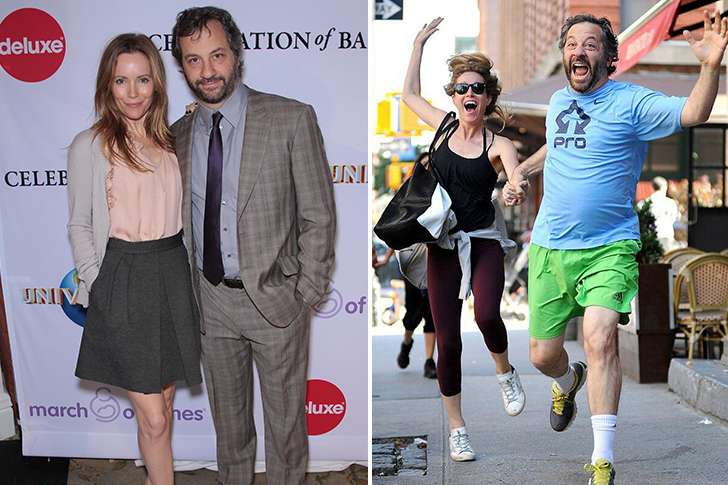 Judd Apatow didn't think he was about to meet the love of his life when he made some investments to produce the 1996 movie The Cable Guy. However, he couldn't deny he felt something when he met Leslie Mann during the film's pre-production. When he saw her, he said she would be the future Mrs. Apatow, and it indeed happened. The actor had an instant soul connection with Mann.
Alternatively, the actress didn't entertain her crush on the film director Ben Stiller and went on a date with Apatow instead. She noticed how he tried to impress her, and he succeeded. Mann realized she was already in love after their first date, while Apatow knew it was love at first sight. After just a year, the two got married and now share two kids, Maude and Iris. With their 24 years of marriage, it looks like nothing can separate Mann and Apatow.
Lee Majors & Faith Majors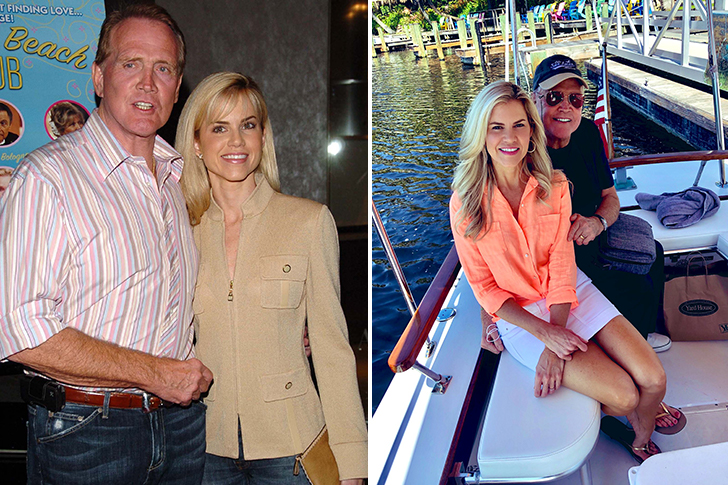 Lee Majors is proud of his romance with Faith Majors. After being married three times and getting the help of an attorney each time, it looks like the iconic actor will never need them anymore. Lee and Faith have been married since 2002 and their 19 years of marriage speak volumes about their relationship.
Despite the 35-year age gap, it can't be denied that they're happy together. In total, Lee revealed they had been together for more than two decades, and in Hollywood, he knew it was already a record. The actor was previously married to Kathy Robinson for three years, Farrah Fawcett for nine years, and Karen Velez for six years. He has four kids: Nikki, Trey Kulley, Dane Luke and Lee Majors II, from his previous romances, though he has no kids with Faith. Anyhow, it doesn't make them less of a couple.
LeBron James & Savannah Brinson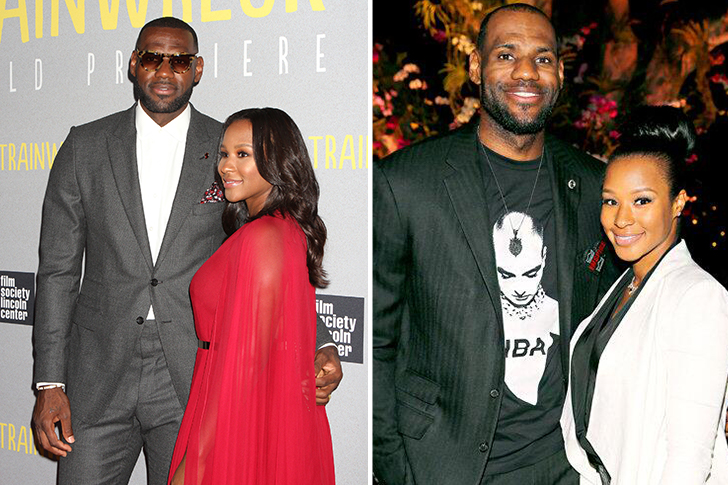 LeBron James gets credits as "The Chosen One," but for him, the one is the love of his life, Savannah Brinson. The two have been together since they were in high school, and she has never left his side amid everything he has gone through. James was only a rising basketball superstar at his school then, while Brinson was a cheerleader and softball player from another school. When he managed to enter the NBA, she thought it was already over for them, but their new life together was only starting.
In 2004, they welcomed their first child together, and after three years, another member of the family was added. In 2010, they moved to Miami, and after a year, James finally popped up the question. Their much-awaited wedding finally happened in 2013. Now, they are a family of five after Brinson gave birth to their younger daughter, Zhuri James, in 2014.
Kyra Sedgwick & Kevin Bacon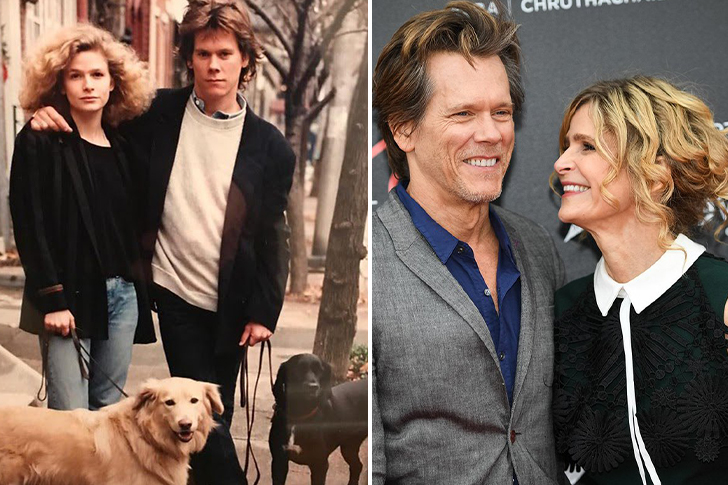 32 years and counting! That's how long Kyra Sedgwick and Kevin Bacon have been together.
According to sources, the pair first crossed paths at a 1970s play that the actor starred in. During that time, however, Kyra was just a little girl barely in her teens, so nothing really came out of their encounter. Fast forward 10 years later, and the two met again. Things didn't really fly off quickly since Sedgwick initially thought that Bacon wasn't her type. However, something changed along the way because the two eventually married in an intimate ceremony in 1988. The couple then became parents a year later after welcoming their first child, Travis. Their daughter, Sosie, followed in 1992. Since then, the couple has been busy expanding their investments and their Hollywood portfolio by collaborating and starring in a few films. With their shared passion and sincere love for each other, it's no wonder they defied the Hollywood odds!
Kristen Bell & Dax Shepard

Out of all the famous Hollywood duos, Kristen Bell and Dax Shepard are, by far, some of the most beloved.
The two charming personalities have been together for 14 years — a millennium in Hollywood years. However, unlike some entertainment unions, Bell and Shepard's first encounter did not necessarily bring sparks and electricity. The actress even revealed that she had no idea who the comedian was when they met at a private dinner they both attended. The sparks only came in when they ran into each other at a hockey game two weeks later. Bell and Shepard dated on and off for a few years and welcomed their first baby before exchanging vows in 2013. Although the pair didn't always have the healthiest relationship, they still managed to work through their differences and emerge as one of Hollywood's most enduring couples.
Kim Novak & Robert Malloy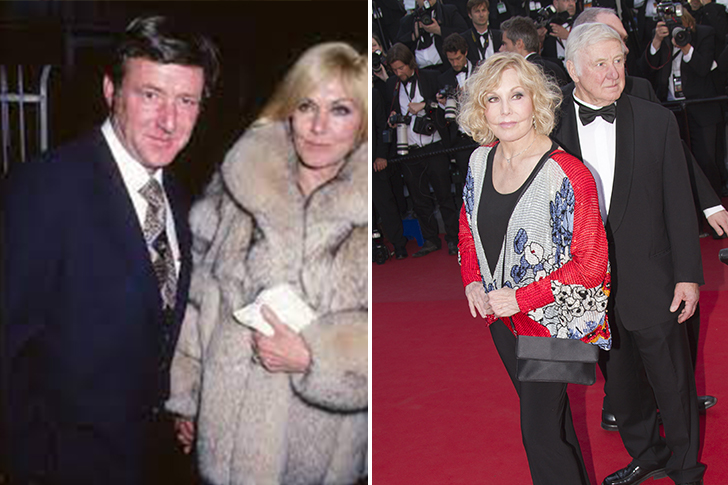 Several factors affect a marriage's longevity. For Kim Novak and the late Robert Malloy, humor and having many things in common made their union last for as long as it did.
The actress met the dashing veterinarian back in 1974 when she called in for his services for one of her horses. Novak had just retreated from the Hollywood life at that point, so she had the luxury of dating without the media frenzy. The couple was able to enjoy two years of dating before deciding to get married in 1976. Eventually, Novak and Malloy left California to live a more quiet life in Oregon. They enjoyed a peaceful life until the fall of 2000 when their house burned down, along with many of the actress' prized artworks and writings. Their home probably had insurance, but it was still a devastating experience for the two. Safe to say, the couple had their fair share of ups and downs but conquered it all together. Before Malloy's passing in November of 2020, the couple enjoyed 44 years of marriage.
Kevin Costner & Christine Baumgartner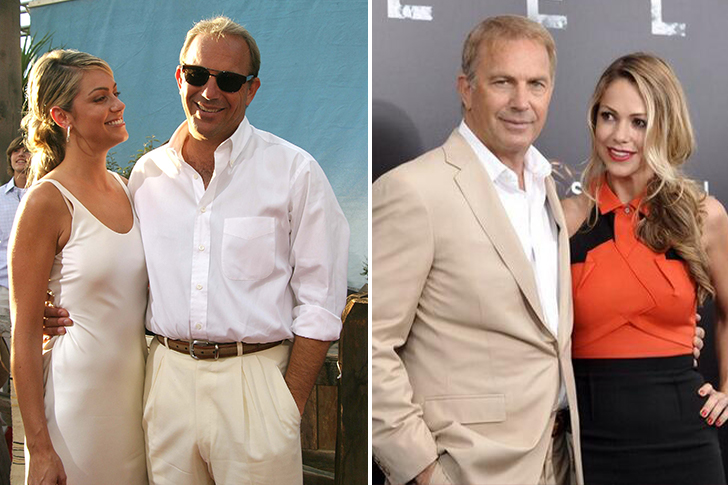 Kevin Costner has lived a pretty colorful career and an equally vibrant romantic life. Although he's only been married twice, he's had a few special relationships along the way, too. Currently, the actor is married to Christine Baumgartner, a designer and former model.
The two first crossed paths back in the 1980s when Costner was still with his former wife. A few years and one separation later, they met again in a restaurant in 1999. The pair ended up dating but not without challenges. Before deciding to tie the knot, the actor revealed that they had to take some time off to think about their future together. At that time, Costner already had four children and reluctant to have more. This, in retucrn, made Baumgartner second-guess their relationship. Fortunately, they were able to patch things up and officially sealed their union in 2003. The two now have three children together, and Costner couldn't be happier to make investments for his kids' future.
Julia Roberts & Daniel Moder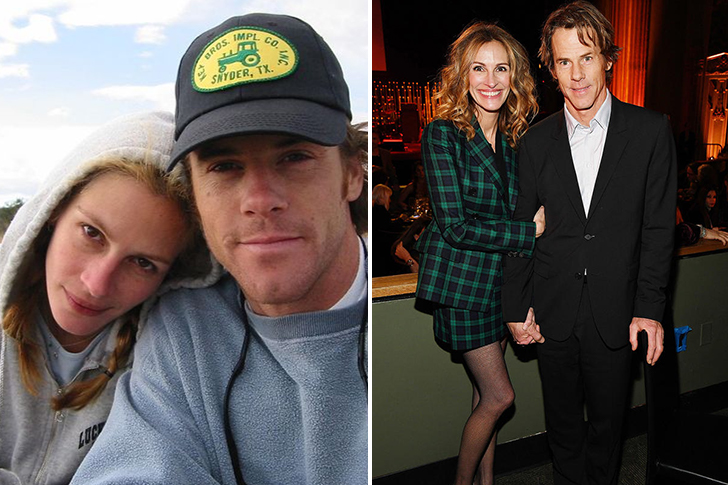 Pretty woman Julia Roberts made millions of fans fall in love over the years, but only one person caught her heart: Daniel Moder.
The lovebirds initially began as co-workers when they met on the set of The Mexican. The actress was, of course, working in front of the lenses, while Moder worked his magic behind it. Although their union is like a match made in heaven, the start of their relationship wasn't particularly dreamy. You see, when they met, both of them were in serious relationships, with Roberts being with Benjamin Bratt and Moder being married to Vera Steimberg. Lawyers eventually dissolved the cinematographer's marriage, but it placed the actress in a position of controversy. Suspicions about her causing the split nagged her for a long time, but the actress has gone on record to express that both her and Moder sorted their personal lives privately before deciding to get together. The two have now been married for 20 years and have three children together.
Joy Behar & Steve Janowitz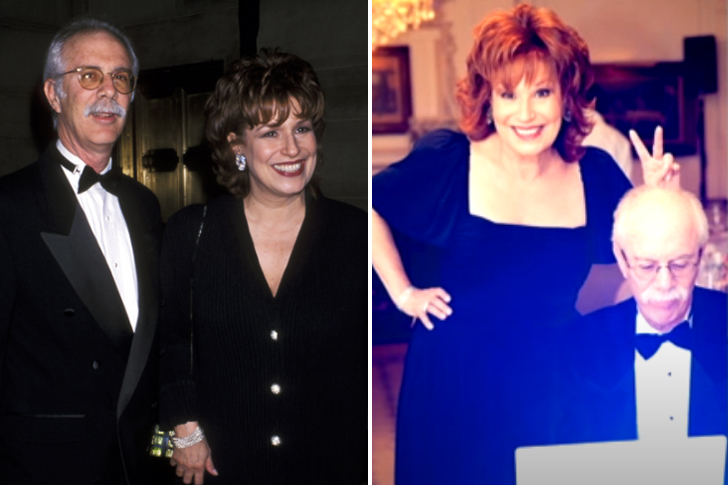 Most of us probably know Joy Behar from the famous talk show The View, but have you ever wondered about the man who captured the host's heart? Well, if you have, then meet Steve Janowitz.
Unlike some of the couples described on this list, their first encounter was somewhat interesting. The two met at a colony with very daring practices. However, the comedian and host clarified that the circumstances of their first encounter weren't what most people had in mind. In fact, even though they met in an adult colony, their meet-up was normal. They have been officially dating since 1982, but it wasn't until 2011 that they decided to finally get married. The two also never had children and decided to spend their investment money on real estate instead. Currently, the two own a
Jon Stewart & Tracey McShane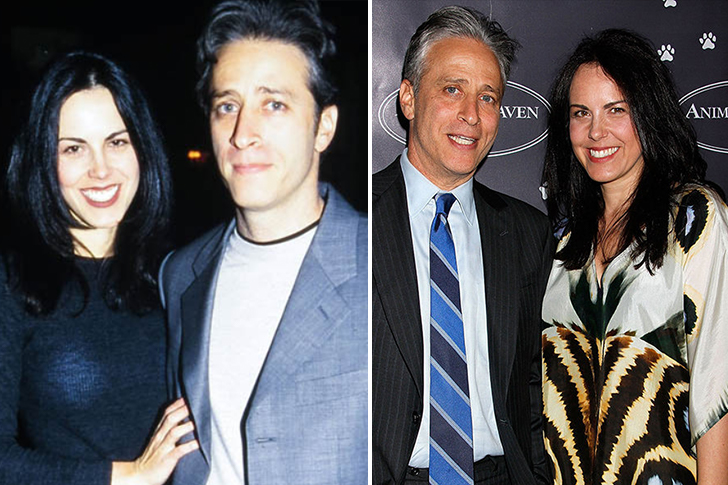 Hollywood writer and host Jon Stewart has been a staple figure on television for over three decades now. For the last 20 years, he's had his wife,Tracy McShane, by his side.
Stewart met his wife back in 1997 when a production assistant for the film Wishful Thinking set the two up on a blind date. Much to that person's delight, the pair actually ended up working out. After four years of dating, the television host finally got down on one knee and asked for Tracey's hand in marriage. According to sources, before Stewart landed a late-night show hosting gig, McShane worked as a graphic designer. She later shifted her focus and decided to pursue a degree in veterinary medicine after her husband started his TV career. Besides their careers and advocacies, the two are also busy being devoted to their two kids, Nate and Maggie.
John Legend & Chrissy Teigen

With hit songs like All Of Me and You and I dedicated to Chrissy Teigen, it's safe to say that John Legend is head over heels in love. Actually, he's been head over heels in love with his wife since 2007.
Their paths first crossed on the set of the singer's music video for his 2007 single Stereo. However, Teigen admitted that the beginning of their relationship was casual and they didn't even consider getting married. However, fate had other plans. In the winter of 2011, Legend took the model on an island getaway to the Maldives and finally popped the question. The journey towards that proposal was bumpy, with the TSA almost confiscating the ring, but it worked out in the end. In September 2013, the couple gathered their closest friends and family and got married against the gorgeous backdrop of Italy's Lake Como. They have been growing their family and their investments since then.
Jimmy Fallon & Nancy Juvonen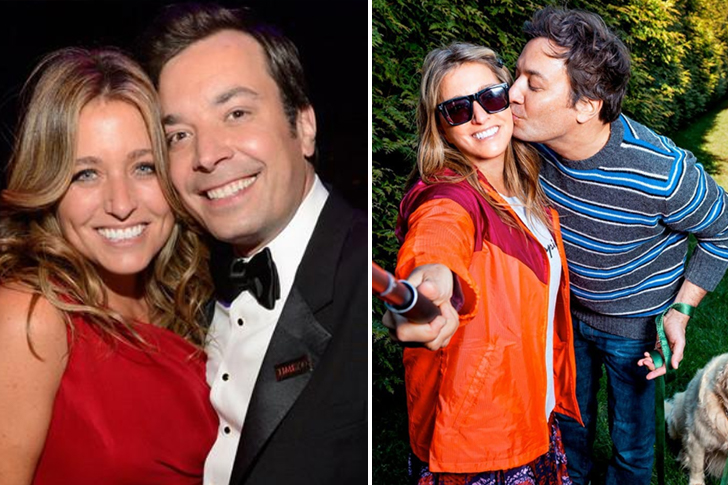 Unlike most Hollywood heartthrobs, Jimmy Fallon wins over girls through wits and humor. That's not to say, though, that he's not easy on the eyes. In fact, the Hollywood comedian and host has some stunning stars crushing on him, like Nicole Kidman and Kate Hudson.
However, of all the women that had a crush on him, nobody was quite as successful as Nancy Juvonen. They initially met on the set of Saturday Night Live when Fallon was still starting out but became closer when they started working on Fever Pitch. After dating for a while, he proposed to Juvonen in her family home in August 2007. The couple, however, had some troubles getting pregnant, so they opted to spend their investment money on surrogacy. Through the procedure, the couple welcomed their daughters Winnie Rose, born in 2013, and Frances Cole, born in 2014.
Jill St. John & Robert Wagner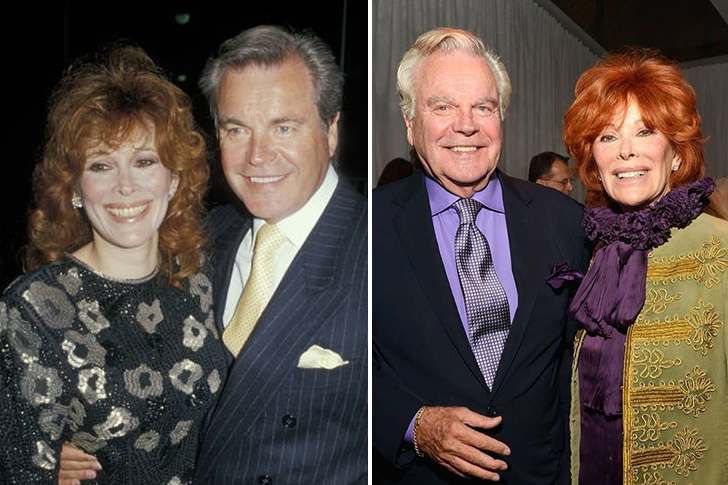 While most love stories have romantic beginnings, Robert Wagner and Jill St. John's case was a bit opposite. Instead of a cute encounter filled with sparks and electricity, the pair's story started with a message of condolences. That's because St. John reached out to Wagner in 1981 after his wife, Natalie Wood, passed.
The two had actually known each other since the late 1950s but did not reconnect until the actor lost his wife. The two talked for a while before making their relationship official on Valentine's Day of 1982. Eight years after they began seeing each other, Wagner and St. John finally exchanged their "I dos" on May 6, 1990. The couple was happy for most of their relationship, but controversies from his past kept following the actor. Fortunately for him, he had his wife to lean on. Instead of dwelling on the past, the couple forged a beautiful life for themselves and spent their years building their investments.
Jessica Biel and Justin Timberlake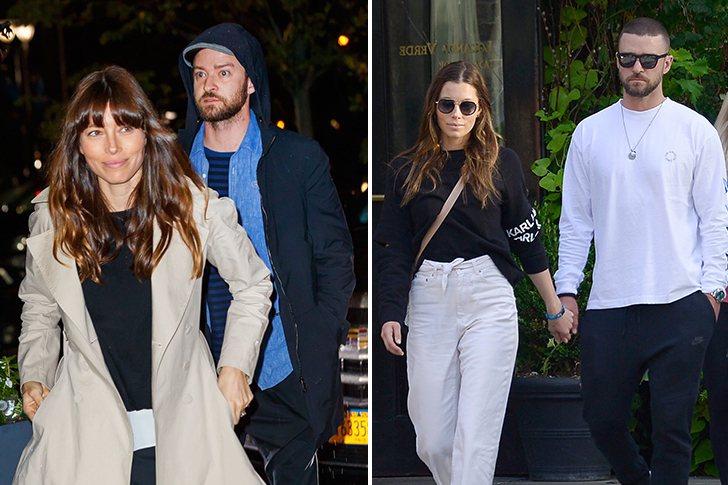 Individually, Jessica Biel and Justin Timberlake are great. Together, they are a force to be reckoned with.
According to the actress, she and Timberlake met at a 2007 birthday party that the Sexy Back singer threw. She also revealed that they briefly talked, but he later asked for her number through a friend. They went out privately for a while before going public with their relationship in May 2007. Since they were both A-list celebrities, their union naturally attracted a swarm of media coverage. In fact, when the couple briefly broke up in 2011, neither Timberlake nor Biel had a break from the paparazzi. However, the two later got back together and got engaged in December 2011. They got married the following year and welcomed their first baby in April of 2015. Given the couple's deep pockets and thriving careers, we're sure that their kids will never have to worry about student loans.
Jerry Stiller and Anne Meara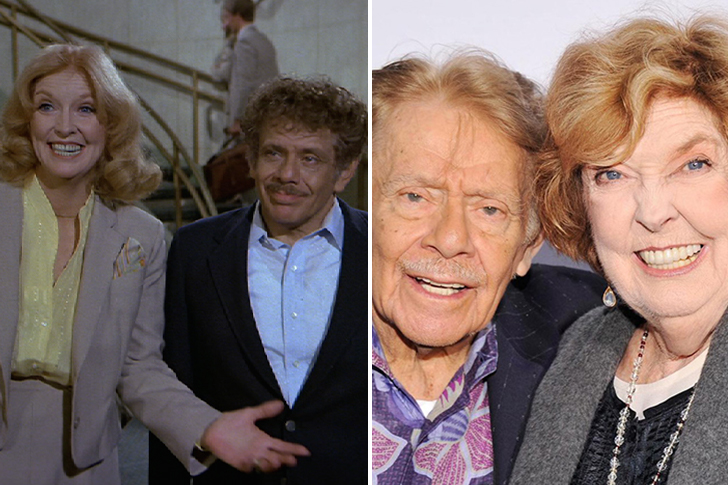 Jerry Stiller and Anne Meara's love story was one for the books.
The pair first met in 1953 after both of them finished their degrees. They married a year later and had two children, both of whom followed their footsteps into acting. Their only son, Ben Stiller, is known to us as the award-winning comedian behind the hit film Night at the Museum. Meanwhile, their daughter Amy is known for films like Highway to Hell and Zoolander, co-starring beside her brother. As you can probably tell, Stiller and Meara were quite successful in raising their children despite being busy with their individual careers. However, they faced some challenges, especially during their earlier years. You see, the couple was initially a comedic duo, but they ultimately decided to split their careers in fear that they'll become too dependent on one another. Stiller even stated that he could've lost Meara as his wife they didn't go their separate ways professionally. That clearly worked out as the two enjoyed six long decades of marriage.
Jerry Seinfeld & Jessica Seinfeld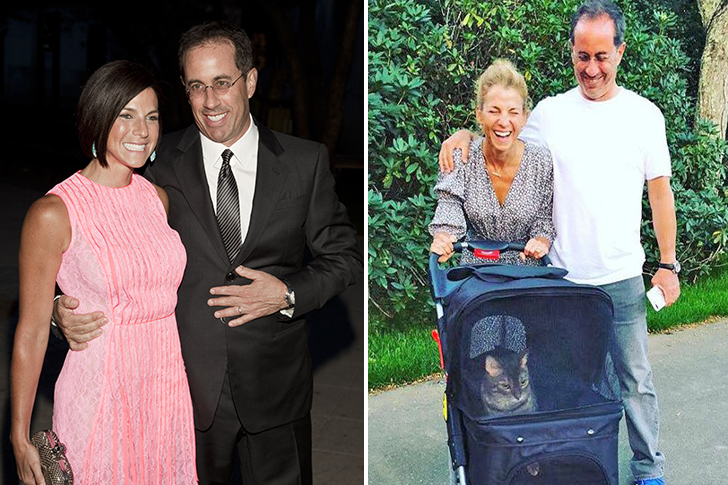 Jerry Seinfeld joked his way to many of our hearts, and that includes his wife of 22 years, Jessica Seinfeld. The two had a pretty controversial start, considering that she was already engaged to Eric Nederlander when she met her now-husband. However, the former Tommy Hilfiger publicist claimed that her marriage to her first husband was doomed even before her fateful encounter with the comedian.
Despite the undesirable circumstance of their meeting, Jerry and Jessica went on with their relationship while lawyers processed her separation from her first husband. They later married in an intimate New York City wedding in December of 1999. Since then, the couple has gone on to become one of Hollywood's most enduring couples, proving that love conquers all. The pair have also grown their family to include their three beautiful children: Sascha, Julian Kal, and Shepherd Kellen.
Jean-Claude Van Damme & Gladys Portugues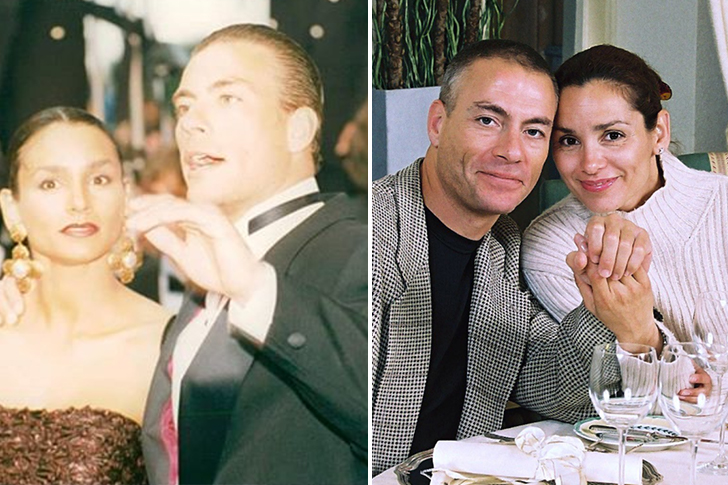 They say that love is sweeter the second time around. Well, for Jean-Claude Van Damme and Gladys Portugues, that is especially true!
The Belgian actor has had five marriages in the past. He was first married to Maria Rodriguez from 1980 to 1984, Cynthia Derderian from 1985 to 1986, followed by Gladys Portugues from 1987 to 1992, then Darcy LaPier from 1994 to 1997, then again to Portugues in 1999. As you can tell, his romantic life was as colorful as his career. However, you might be asking what made him come back to his third wife. Well, apart from having two children together, Van Damme and Portugues also believed that they were made for each other. Just like their marriage, however, the pair almost gave their break up a second shot when she marched into her lawyer's office wanting to file for legal separation. Fortunately, they were able to smooth things out and are now back to being a complete family.
Jay Leno & Mavis Elizabeth Nicholson-Leno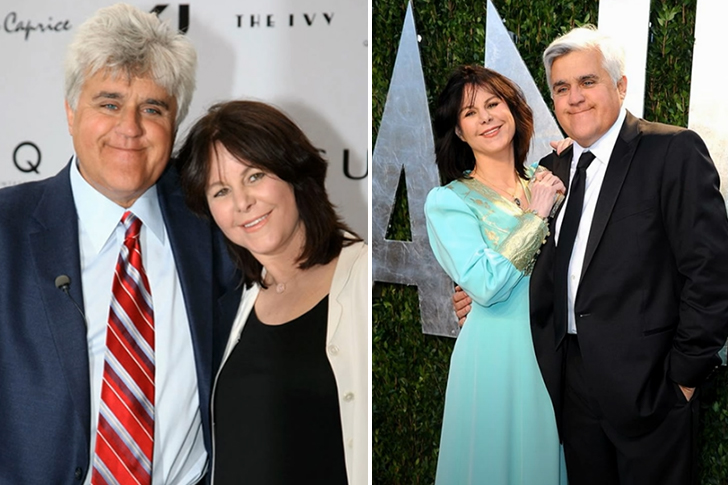 We're all well aware by now that maintaining a relationship, much so a marriage, in Hollywood is nearly impossible. However, a few lucky souls have managed to defy the odds, and that includes Jay and Mavis Elizabeth Nicholson-Leno.
Believe it or not, these two have been married for four decades, and their relationship is nowhere near over. According to Jay, the trick to having an enduring marriage is to "marry the person you wish you could be." Mavis, a leading women's rights advocate, provided him with a balance that he, otherwise, would not achieve in Hollywood's dating scene. Although it's uncommon to see childless couples from their generation, the two agree to forego children and focus their investments elsewhere. That agreement seemed to have worked out just fine for the two, considering that their marriage has lasted for over 40 years! Not a lot of celebrity couples could brag about that these days.
Jason Statham & Rosie Huntington-Whiteley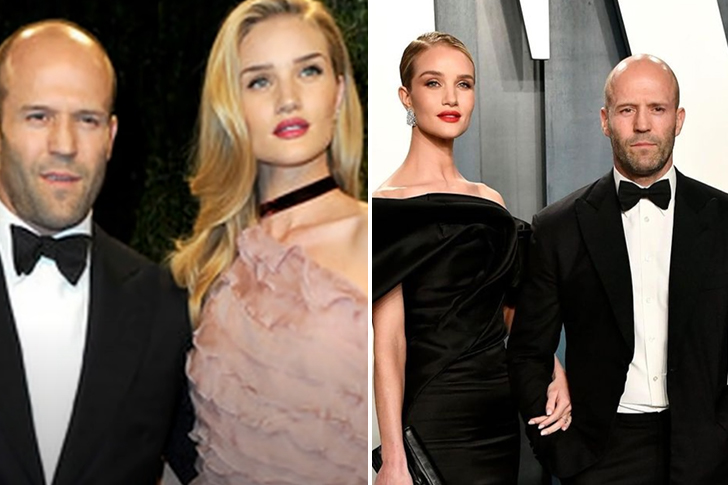 They are one of Hollywood's most attractive couples. Many people assumed that the couple's romantic engagement would not endure more than a few months due to their nearly 20-year age gap. However, after a decade of appearing to be in a happy and dedicated relationship, this stunning celebrity pair has proven the critics wrong.
Statham and Huntington-Whiteley first met in 2010 at the Coachella Music Festival in Indio, California. Unlike many other celebrity couples, they kept their romance under wraps and were slow to reveal their sentiments. The pair has never seemed particularly keen to marry over the years. The model, though, was spotted wearing a diamond engagement ring at the Golden Globe Awards in 2016. Then, a year later, Huntington-Whiteley and Statham welcomed their first child, Jack Oscar. It's incredible how these two people, who are of the same degree, manage to keep their relationship private without allowing for a rumor.
Jamie Lee Curtis & Christopher Guest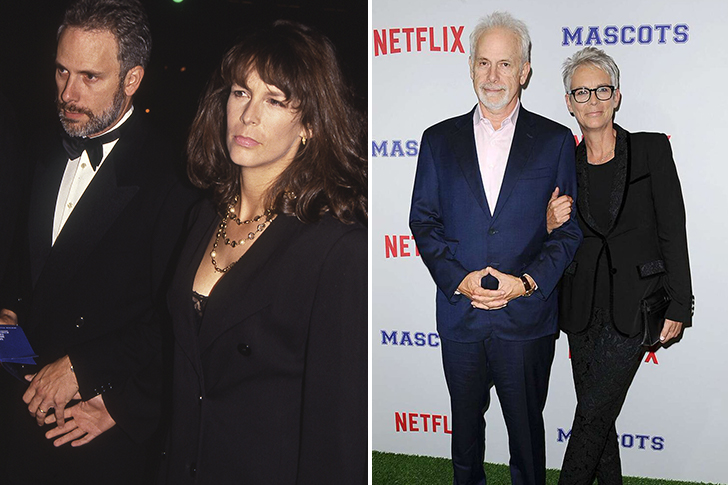 There have been plenty of celebrity couples in Hollywood, and while not all of them have worked out, there have been a few long-term relationships that have weathered the test of time. Jamie Lee Curtis and Christopher Guest, who have been happily married for over 35 years, are another couple to add to this list.
While glancing through a magazine, the actress realized she was going to marry him. She was with a friend at the time, who said she knew Guest's agent and could arrange things up for her. She called the agent the next day and gave her phone information, telling him to have him call her if he was interested. However, he didn't call. Curtis moved on until she stumbled across Guest in a West Hollywood restaurant one night. They fell deeply in love quickly, and the director "married that man" in December 1984, just six months after expressing her manifestation. Today, the couple is doing well with their career investments while raising their two kids.
Jada Pinkett Smith & Will Smith

Will Smith and Jada Pinkett Smith exchanged vows in 1997, albeit it wasn't exactly a fairytale wedding. They now refer to themselves as "life partners" after experiencing their fair share of highs and lows.
Will and Jada met on the set of Fresh Prince of Bel-Air in 1994 when she auditioned for the role of his girlfriend (which she didn't get). Before dating her, the actor was married another lady, Sheree Fletcher, who shares his oldest kid, Trey. By 1995, though, he and Jada had begun dating. After marrying, the pair handled things a little differently than typical couples. Their relationship wasn't always plain sailing, which is common in long-term relationships. Will and Jada encountered some hardships that they had to publicly address on Red Table Talk, the actress' web series. They are not only experts in their fields, but they also have a degree of love and respect for one another that is admirable.
Hugh Jackman & Deborra-Lee Furness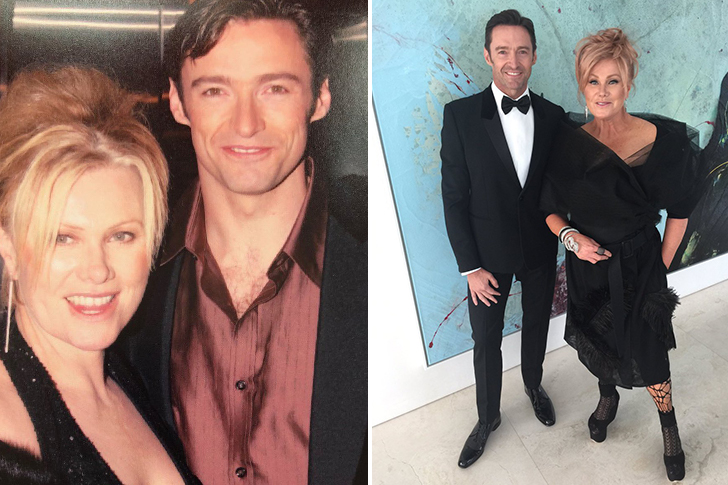 Hugh Jackman has stated that he and his wife will continue to define "soulmates." He lived by the maxim "happy wife, happy life," which is easy to say but difficult to put into practice for many movie stars. However, he's not opposed to putting in the effort, given that it's how they met—and stayed together—in the first place.
They met while filming Correlli, a 10-episode Australian TV drama. Jackman portrayed a prisoner who had trauma during his journey to jail, and Furness played a prison psychologist attempting to help him regain his memory. Everyone on set had a thing for the actress, but the Wolverine actor was the lucky guy who got to take her out. Furness revealed that she wasn't searching for a relationship at the time, especially with an actor. She also disregarded her rule of not dating co-stars while filming, but she had this relentless 26-year-old fall in love with her, and they had an "instant connection." They have built a great degree of love that is evident with their 25-year marriage.
Gordon Ramsay & Tana Ramsay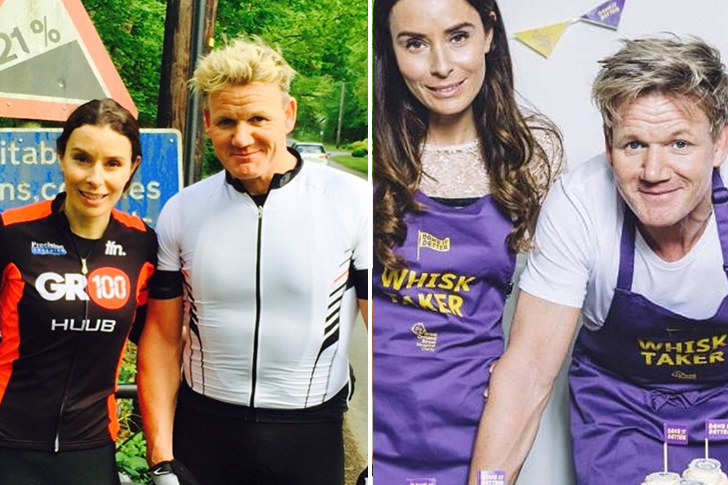 Gordon Ramsay is notorious for his demeaning comments and tough-love wake-up calls with struggling restaurant owners. His relationship with Tana, his wife, is even more intense behind the scenes.
The couple met when she was 18 years old. Gordon had feelings for her, but she was dating one of his pals at the time. The celebrity chef took a respectful step back, but when Tana and his friend split up, he made his approach. Gordon swept her off her feet on their first date, but it was tough for them to stay dating. They took their love to a greater degree in 1996. Tana and Gordon welcomed Megan, their first child, in 1998 after undergoing in-vitro fertilization. They were also able to have twins Holly and Jack in 1999, Matilda in 2002, and Oscar in 2019. Tana is, without a doubt, Gordon's match, if not more.
Goldie Hawn & Kurt Russell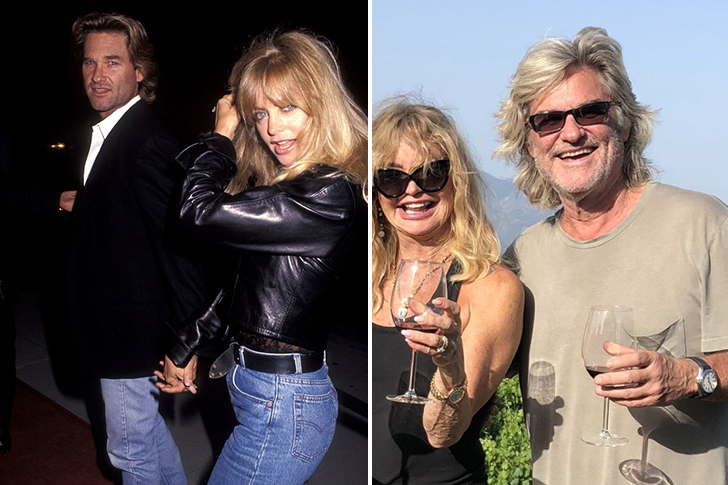 Goldie Hawn and Kurt Russell, who started dating Valentine's Day in 1983, recently celebrated their 38th anniversary. The Hollywood couple is delighted, and three years into their partnership, they welcomed son Wyatt Russell, who completed their blended family. Hawn has two children with her former husband Bill Hudson, Oliver and Kate. In comparison, Russell has a son with his former wife Season Hubley, Boston.
While it's no secret that Hawn and Russell aren't married, it may surprise some fans to learn that they have no plans to get married – no matter how many times we ask them! They are content just being together without a certificate to prove their love. While they aren't married in real life, they depict Santa Claus and Mrs. Claus in their latest film, The Christmas Chronicles 2. Over the years, they have strengthened their career investments, and the no-marriage policy seems to be working well for them.
George Clooney & Amal Alamuddin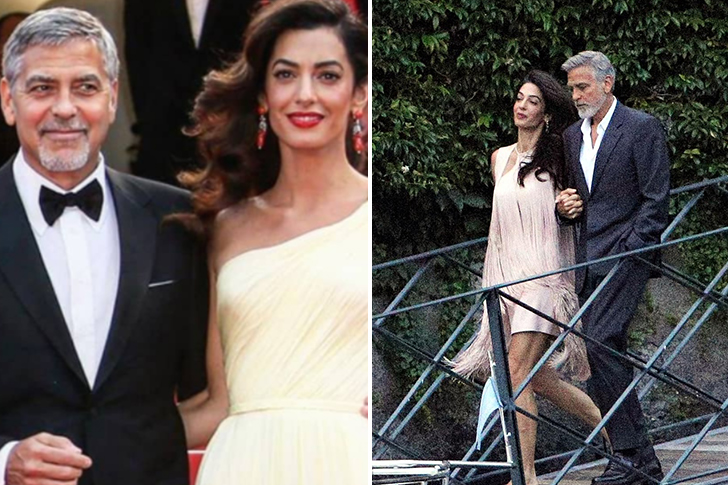 While Amal Alamuddin rose to international fame after marrying one of the world's most eligible bachelors, the London-based Lebanese lawyer has long been a celebrity in the Druze community.
Alamuddin met Clooney through a mutual friend at a charity fund-raising event in Italy. They kept in touch after the dinner party, and their friendship blossomed into a romantic connection. Clooney requested Alamuddin to pay him a visit at Abbey Road Studios, where he was working at the time. He planned an extravagant proposal for her on April 28, and in September 2014, the pair married in an elaborate ceremony in Venice, Italy. Given Alamuddin's background as a human rights lawyer and Clooney's experience of activism and public advocacy, they built the Clooney Foundation for Justice in late 2016. They continue to collaborate with nonprofits and organizations to bring justice to classrooms, courts, and underserved communities.
Gabrielle Union & Dwyane Wade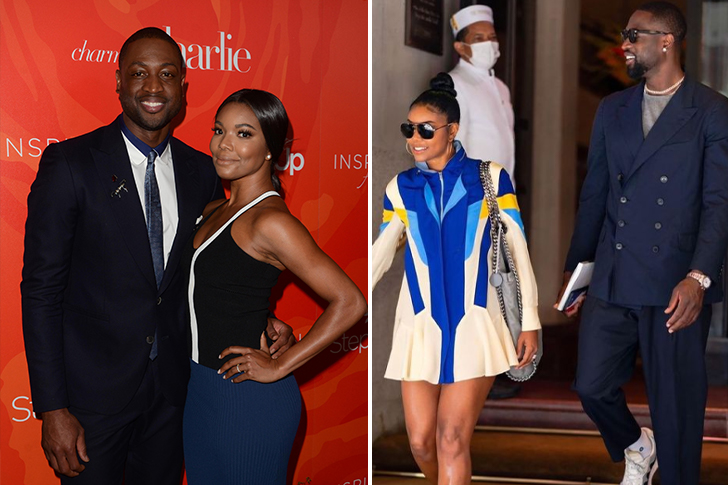 When an NBA player marries an A-list actress, you have one of Hollywood's most recognizable power couples. Gabrielle Union and Dwyane Wade have been been together for 13 years and married for six. The enamored pair first met in 2007 and married in August 2014. However, their relationship hasn't been without its ups and downs. Together, they've conquered the toughest of hurdles on their way to the altar.
The two met for the first time at a Super Bowl party, but it wasn't love at first sight. They dated for a while, and Wade popped the big question to Union in 2013. They were married in a lavish Miami ceremony on August 30, 2014. It's not easy juggling hectic occupations and raising children, but the Wades make it look easy. The athlete claims it's because they both make a conscious effort to prioritize family. Aside from building investments together, Union and Wade belonged to Time Magazine's 100 Most Influential People of 2020 list.
Eva Mendes & Ryan Gosling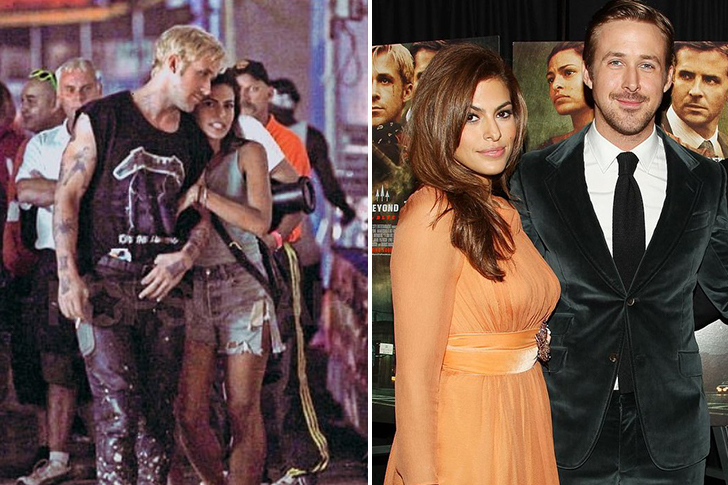 Some celebrity couples put their love on a show for all to see. Others keep theirs close to the vest. Eva Mendes and Ryan Gosling are one couple who firmly belongs in the latter category—and with good cause. The pair have been together for nine years and have two kids, Esmeralda and Amada.
Even before they were parents, Mendes and Gosling worked together on their 2011 film The Place Beyond the Pines. Rumors about their connection began to circulate at that time. However, they have managed to keep quiet about the intricacies of their relationship since then. The couple unveiled their second project together, Lost River, three years after they first fell in love. Although they kept their relationship and investments under wraps, they've demonstrated that their bond is still strong by making rare statements about their love for each other and their family.
Eric Clapton & Melia McEnery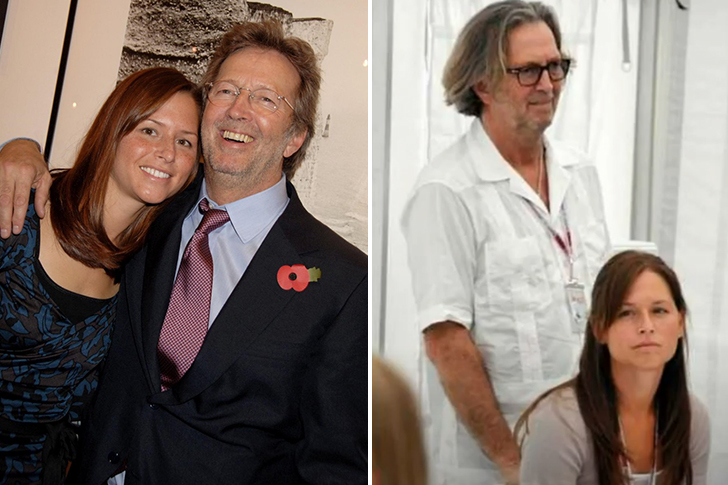 When you hear the name Eric Clapton, you probably think of a few things. He's a well-known British rock guitarist and singer-songwriter, to begin with. Clapton is the only musician in history to have been inducted into the Rock & Roll Hall of Fame three times. He has also gotten 37 Grammy nominations and won a total of 17 Grammy Awards. His romantic life has generated news in addition to his music investments.
He eventually married Melia McEnery. However, given that he is 74 years old and she is 43, their 31-year age difference has gotten a lot of attention. Clapton and McEnery have been together for 18 years and have successfully silenced any skeptics or doubters. They met when the singer to a party his future wife gave for the company in 1998. He attended because he was friends with Giorgio Armani. The rest, as they say, is history. Clapton and McEnery married on New Year's Day in a surprise wedding in the same English county where he grew up. According to the singer, his wife is the first woman with whom he has had a "genuinely equal relationship."
Eric Braeden & Dale Russell Gudegast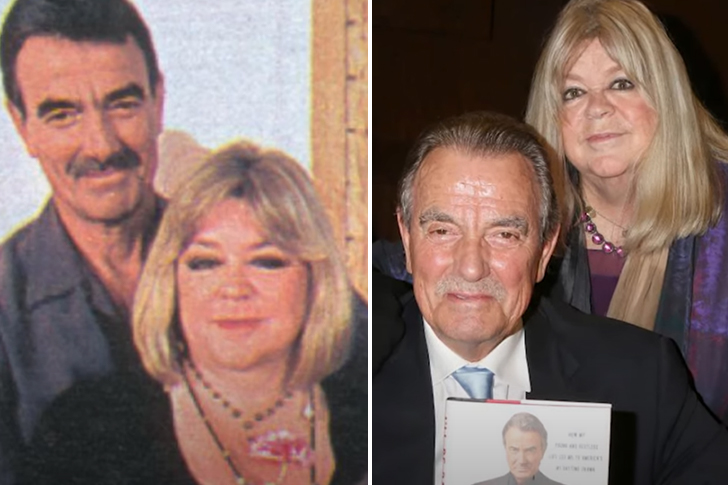 After garnering renown for his destructive boy role in the American old-time TV show The Young and the Restless, Eric Braeden can be considered a veteran actor. His character on the show was one that audiences loved to despise, so it's surprising to learn that he's a very caring husband in real life. Braeden is a family man who has been married to his college sweetheart, Dale Russell Gudegast, for as long as he can remember.
They were earning degrees at Santa Monica State College when they met. Braeden and Gudegast were casually dating at first, but it soon developed into a serious relationship. When they realized how great they got along, the lovebirds soon hit it off, with romance settling in and marriage swooping in no time. Braeden proposed to Gudegast in the mid-1960s. She said yes, and the couple got married in 1966. They became grandparents when Christian Gudegast, their son, fathered three daughters. The couple examplifies the proverb, "behind every successful man, there is a supporting wife."
Elton John & David Furnish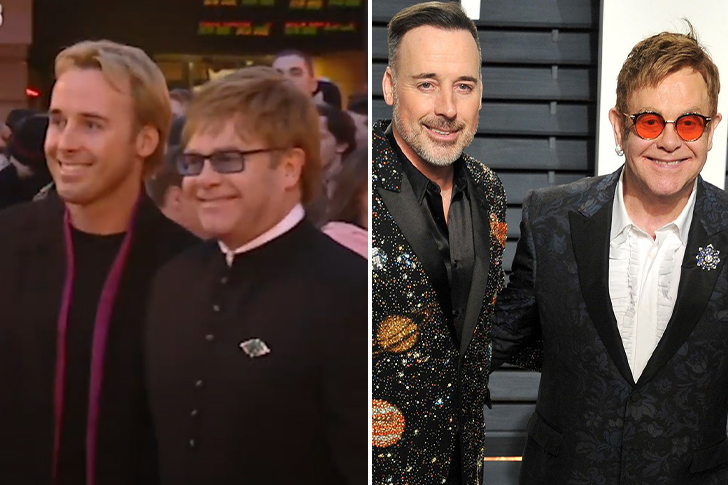 Elton John and David Furnish met in the same way that many couples do: through familiar friends who introduced them. However, their relationship is far from ordinary because none of them is a regular person. One of the two spouses has a global degree and has sold millions of CDs with hits like Rocket Man, Your Song, and I'm Still Standing. The other half of the duo is a Canadian advertising dynamo who runs a successful entertainment firm and a pioneering charity.
John and Furnish have one of the longest-running partnerships in the show industry. They have been together for nearly 30 years, through good times and bad. They officially filed their civil partnership on Dec. 21, 2005. Celebrating the ninth year of their civil union, John and Furnish wedded in front of friends at their Berkshire estate in a lavish ceremony on December 21, 2014. They were determined to establish a family and welcomed two children under their wings.
Ellen DeGeneres & Portia de Rossi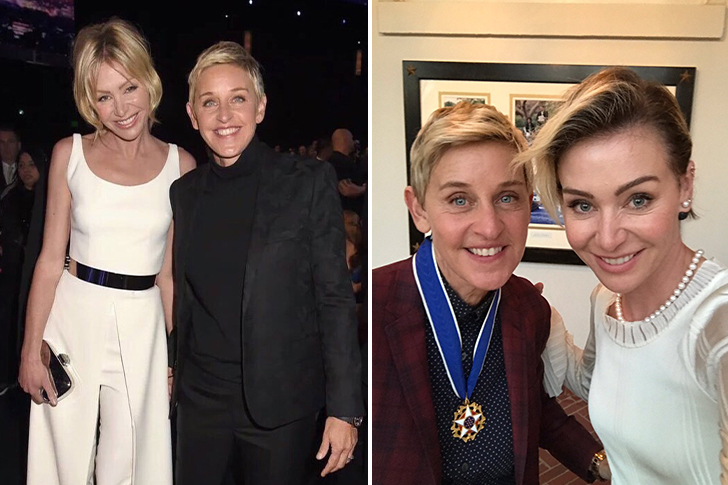 Ellen DeGeneres has a colorful past in the spotlight regarding her love life: she came out on Ellen in 1997 and had a high-profile romance with actress Anne Heche shortly after. She then dated photographer Alexandra Hedison for three years before meeting her soulmate in Portia de Rossi, her wife.
When they got married in August 2008, they broke down barriers and inspired people with their love stories. In 2000, the twosome met at a party, but it wasn't until 2004 that they became more than simply acquaintances. Their relationship, which began after VH1's Big in '04 awards presentation, gave De Rossi the courage to come out in public. In August 2018, DeGeneres and De Rossi married soon after the California Supreme Court ruled it legal for same-sex couples to marry. Although the actress continues to use De Rossi professionally, she legally changed her name to Portia Lee James DeGeneres. Over the years, they continued to gain investment homes and are building a lavish life together.
Eddie Murphy & Paige Butcher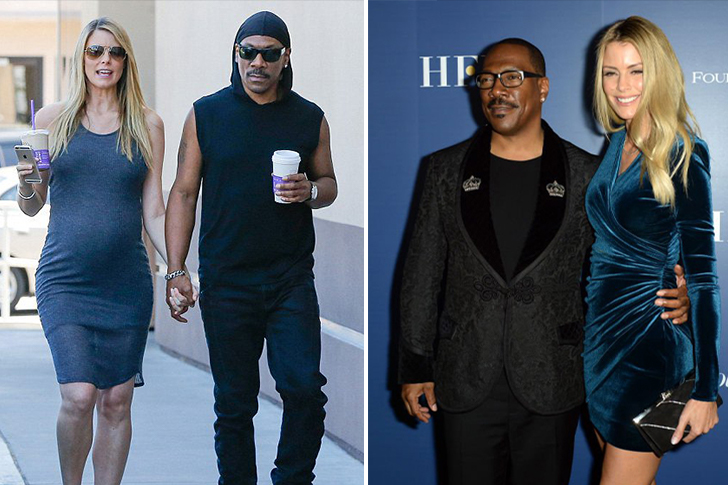 Eddie Murphy has had a tremendous career and a remarkable degree, but he hasn't had the same luck in love. Despite the occasional turbulence, he did not shut himself off from relationships, and at the age of 51, he met his match in Paige Butcher. The couple met in 2012 and have been practicing the art of the blended family while on an extended engagement.
Murphy and Butcher met during the filming of Big Momma's House 2 for the first time. He was on set visiting his friend Martin Lawrence when he met his future soulmate. Though he and Butcher didn't hit it off right away or start dating, they were friends after meeting on the shoot and may have stayed in touch after that. Though fans shouldn't expect them to spill any secrets, it sounds like they're pleased together with their growing family.
Dr. Phil & Robin McGraw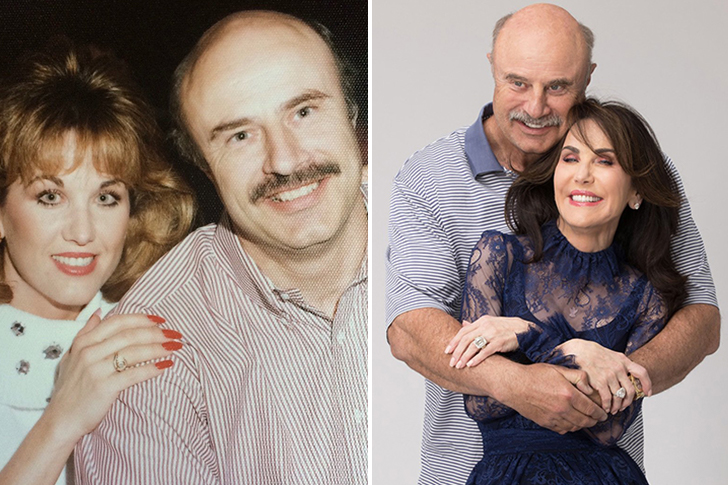 Dr. Phil and Robin McGraw will mark 45 years of marriage in August 2021 and are still in love. The host of the same-named TV show has won over our hearts with his heartfelt, emotive, yet practical counsel. Following his features on The Oprah Winfrey Show, he developed and hosted his advice show with Oprah's aid.
Dr. Phil had a difficult time in 1973 when his marriage to his first wife failed. That's when Robin Jo Jameson entered his life and shone brightly. Three years later, in 1976, the pair married. They have demonstrated unwavering devotion and commitment to one another, with their 45-year marriage as a testament to their love. Dr. Phil has gone on to achieve a remarkable degree as a result of his show, while Robin has gone on to become a New York Times bestselling author. Nonetheless, as a celebrity couple, they have had to cope with rumors and speculations since their meteoric ascent to popularity.
Dolly Parton & Carl Thomas Dean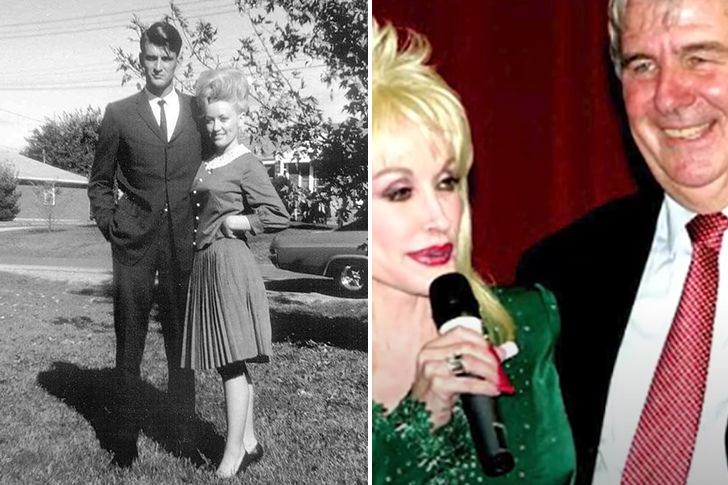 Opposites do attract, and they make for good marriages too, just like in the case of Dolly Parton & Carl Thomas Dean. What makes their marriage work is the fact that they have kept things private. Many assumed that Dean doesn't exist, but he does and, to their credit, are very much in love with another. There is no denying that it was love at first sight between the two. After two years of dating, the couple tied the knot and are still together to this day.
Parton has a stellar career in music which her husband supports. The only difference was that he does not like the life under the limelight, which is one of the reasons why he rarely accompanies his wife to any of her events. Parton doesn't mind at all because she gets to do the things that she wants. At the end of the day, it is just the two of them enjoying some quiet time together.
Denzel & Pauletta Washington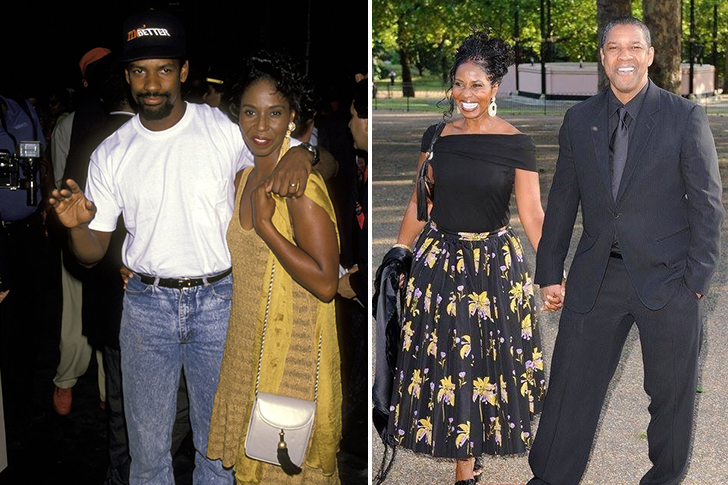 There is no denying that Denzel Washington is one of Hollywood's A-listers, but with all of his successes, it was his marriage to Wilma actress Pauletta he considers his biggest win. The actor has never been shy about giving all the credit to his other half in everything that they do. The couple met on the set of Wilma, which helped them start out as friends before they started dating. They chose to tie the knot after five years.
Their union produced four children, all of whom are now grown and part of the entertainment industry just like their parents. It seems that there is an ongoing healthy competition between the brood and their parents in terms of career. The Equalizer actor has much to be thankful for since his children are carving their own spot in the limelight.
David Bowie & Iman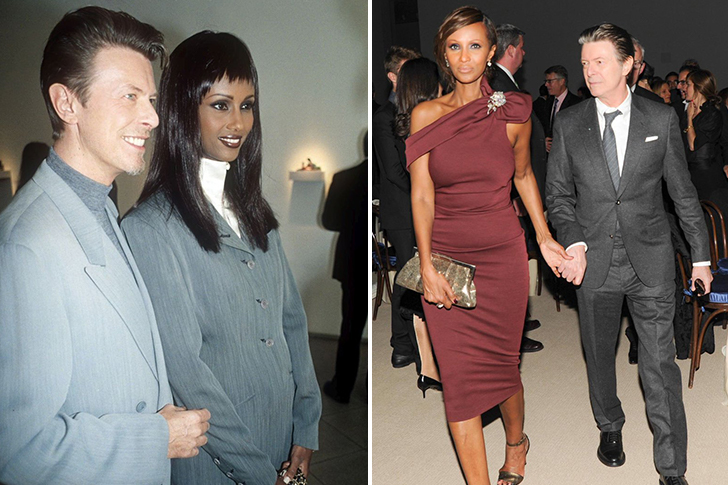 The relationship between David Bowie and Iman is a source of inspiration to other couples out there. The singer was at the peak of his career when he met the Somalian model through a blind date. It was just meant to be. The couple were married after two years of dating. Many can't get enough of the power couple as they looked amazing not to mention have eyes only for one another. They have one child between them who bears a strong resemblance to her father.
Sadly, Bowie passed away in 2016, leaving his wife heartbroken. However, Iman had chosen to honor his late husband's life and love by reminiscing their time together and posting sweet messages on her Instagram account. The model doesn't believe that she is going to marry again future since Bowie was the love of her life. The investments left behind by her husband are enough for her and her daughter to live a comfortable life.
David & Victoria Beckham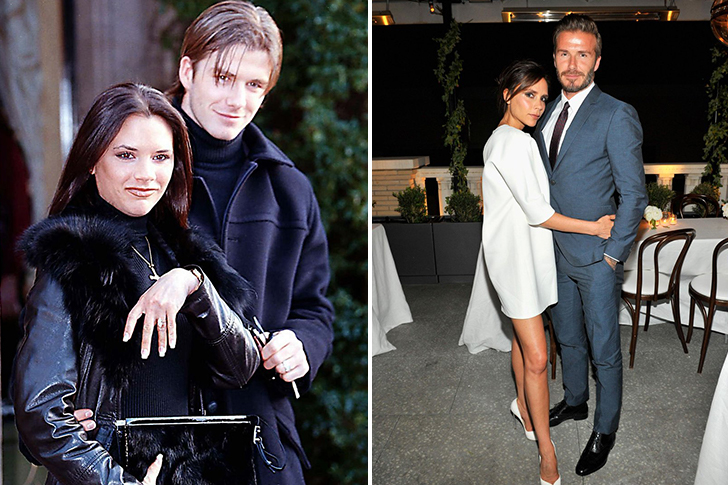 One of the hottest celebrity couples that many are following is football star David Beckham and former Spice Girl Victoria Beckham. The two crossed paths during a charity event and it was in this meet-cute that Posh Spice believed in love at first sight. A year later, the two got engaged. They welcomed their son before they tied the knot, which was one of the most watched events at the time.
Though their relationship, at one point, was marred by negative press, the couple was quick to shut it down. Their marriage remained intact and they were even expanding their family. What makes their marriage work? The two admitted that they stuck to their guns and made sure that they work things out. They don't even have to worry about any mortgage problems since their combined net worth is quite impressive.
Daniel Craig & Rachel Weisz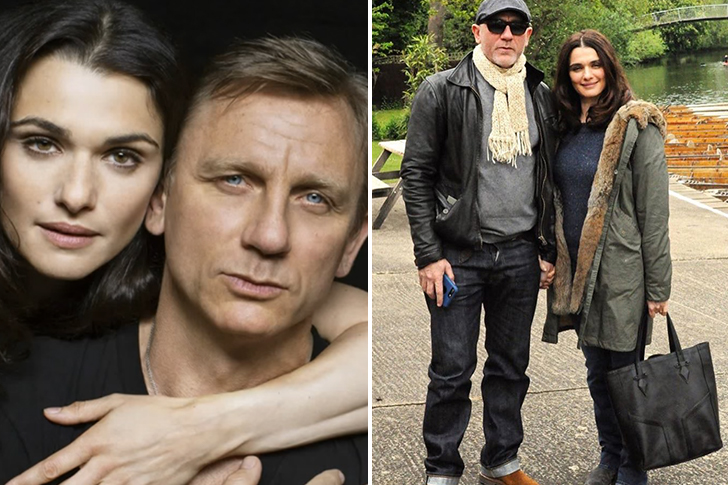 The love story between Daniel Craig and Rachel Weisz was written when they were in university. Both were working on a stage play and neither would realize that they will soon be among Hollywood's top actors. After getting their degrees, the two had to go their separate ways to evolve and find love too. However, it seems that fate brought them back together while shooting for the film Dream House. It was at this time that both their relationships with their respective partners came to an end.
Soon enough they started dating and secretly tied the knot after six months much to the surprise of their fans. What makes their relationship a success? Both kept things private which is why many were caught unaware that they were engaged in the first place. They also have a child who they keep hidden from the spotlight. Their focus on a quiet married life has helped them stay together happily.
Cyndi Lauper & David Thornton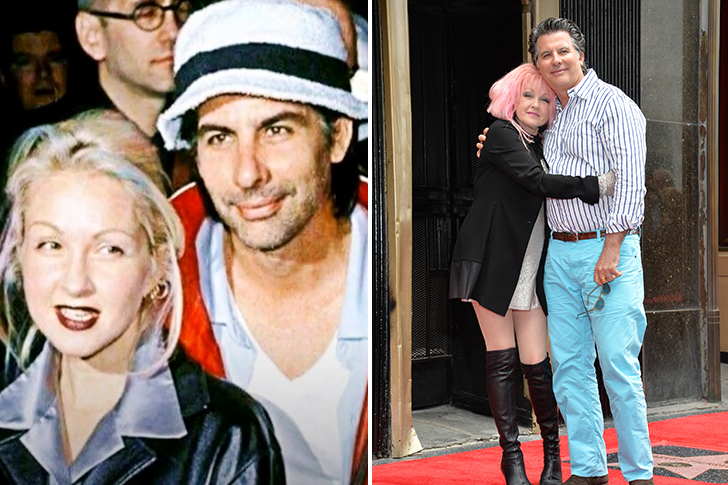 Girls Just Wanna Have Fun singer Cyndi Lauper and Homeland actor David Thornton have been married for more than three decades and are still going strong. Since the start of their relationship, she was full of praises for her husband, stating that she simply wanted to share her life with him. The singer has been in the music industry for more than four decades and is best known for her powerful vocals and eccentric way of dressing up.
The two have a son named Declyn Wallace, who has also followed in his mother's footsteps to become a singer himself using the stage name is Dex Lauper. His parents couldn't be prouder. Since both Lauper and Thornton had been putting a lot of time and effort in their respective careers, they have gained a considerable sum to enjoy. No need to think about applying for personal loans because they have enough money to get them by.
Courteney Cox & Johnny McDaid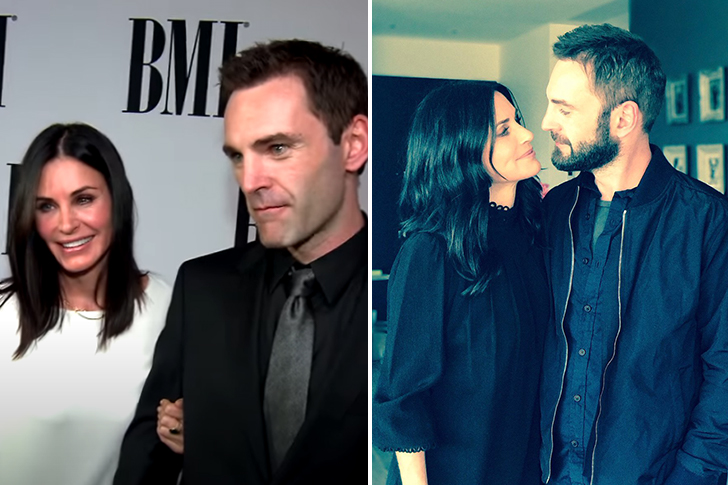 Courteney Cox has already dated several high-profile celebrities from Adam Duritz to her former husband, David Arquette. However, many were surprised to learn that she found love in the arms of Snow Patrol's guitarist, Johnny McDaid, whom she has been with since 2013. How did the two meet? It was all thanks to Cox's friend and McDaid's roommate, Ed Sheeran. The singer gets credit for getting the couple. He even kept mum about the couple despite being linked to the actress.
The two did got engaged at one point, but called it quits. Fortunately, the two got back together after spending some time apart and this time, the two admitted that their relationship was stronger because of what they went through. Though many were quick to point out that Cox was older, the Friends actress admitted that she was used to the reports already.
Cindy Crawford & Rande Gerber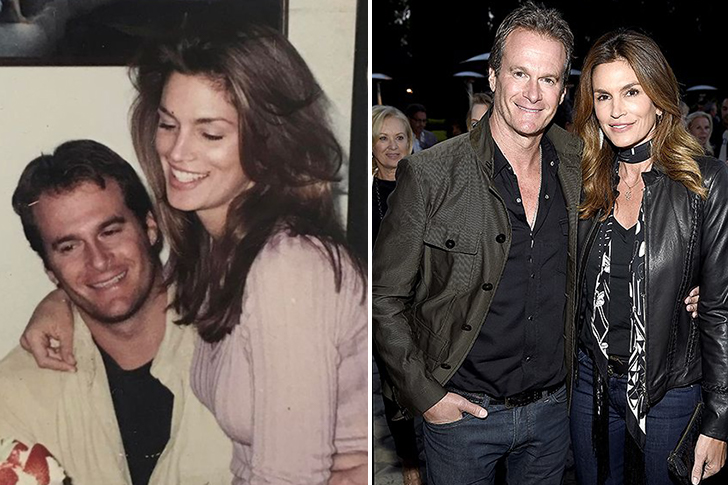 Supermodel Cindy Crawford, and her businessman husband, Rande Gerber, have been together since 1998. Many have tagged the couple as relationship goals which is not surprising since they have enjoyed a very quiet but happy married life. The two were blessed with two children who are both grown up and looking much like their mother. It is no wonder that they are following in her footsteps by becoming models.
Crawford has found success as an international model with her mole and signature looks. She has graced several fashion magazines and has walked the runway a hundred times already. With that kind of success, it is not surprising that she too would find success in love in the form of Gerber. The businessman has an illustrious career himself. With their investments, it is not surprising that they are all set to enjoy their time with their family.
Christopher & Georgianne Walken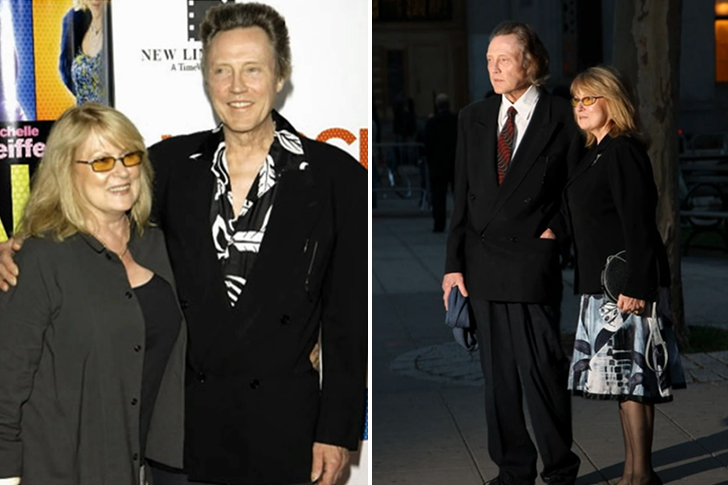 Sleepy Hollow star Christopher Walken has been married to actress and casting director Georgianne for more than 50 years. Their relationship is one of Hollywood's success stories. The two first met during a theater performance of the West Side Story. The two were a couple during the play which translated into real life. They tied the knot back in 1969 and are still very much together today.
Both had a stellar career that they enjoy. Christopher has gone and done several iconic films including The Dead Zone, Wedding Crashers, Man on Fire, and A View to a Kill. Georgianne, on the other hand, has worked as a casting director for shows like The Sopranos, The Banger Sisters, Blind Date, and King of the Jungle. The two agreed to not have children, which helped them have great careers in Hollywood. Where does their investment money go? Aside from real estate, they are using it on their cats.
Cameron Diaz & Benji Madden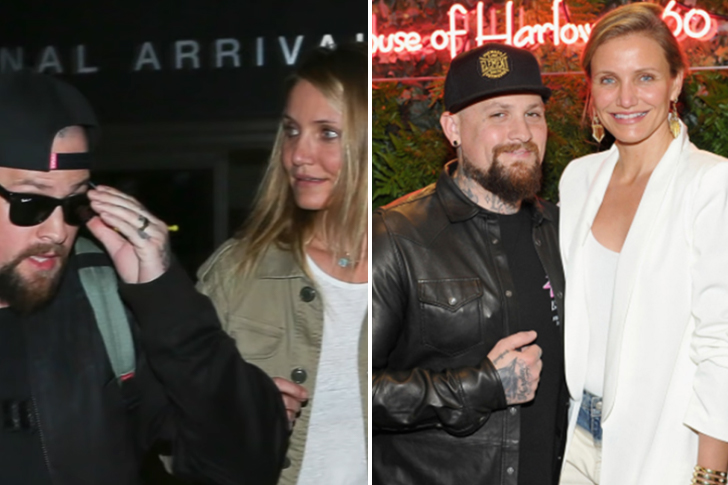 Cameron Diaz dated several celebrities but didn't really believe in marriage until she met Benjii Madden. The Mask star admitted that getting married at her age was the last thing she expected, yet it is one of the best decisions that she has ever made. She wasn't shy about showing her support to her beau, who was part of the band Good Charlotte. Madden reciprocated this by greeting his wife on her birthday. It seems that the two are getting stronger by the day!
Who gets the credit for hooking the two up? It's none other than Madden's sister-in-law, Nicole Richie. If this was the case, then she did a great job of pairing the two since they are now happily married. Madden and his twin brother admitted that they were both in great relationships. The couple has a beautiful daughter between them but are keeping things private for the family. The actress has since retired from the limelight to focus on her growing family.
Bruce Springsteen & Patti Scialfa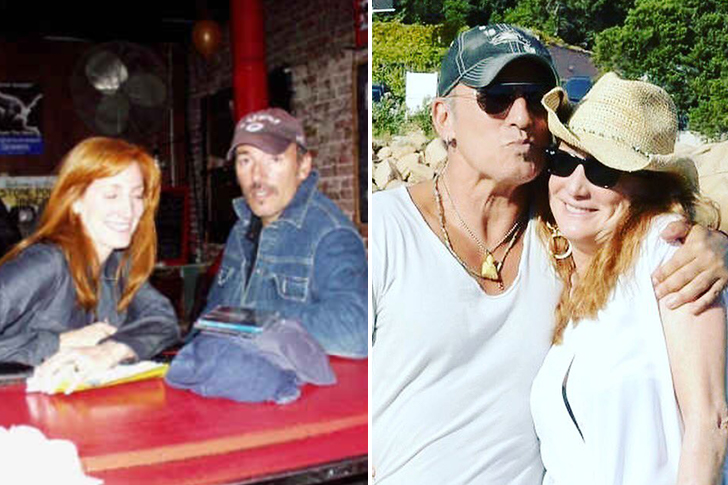 The love story between The Boss, Bruce Springsteen, and his wife of more than 30 years, Patti Scialfa, began when they were part of the same social circles. The first time they met was in a bar where she took to the stage to sing. Springsteen was impressed and decided to invite her as he and the E Band Street went on a tour. The flirtation began and the rest was history. The lovebirds tied the knot in 1991 and are still very much together.
They have three children between them, all of whom are grown up. They are not very much into the limelight, but one child is following their parents' footsteps. How did their marriage last this long? To their credit, both worked on making their marriage stay strong especially while Springsteen was battling mental health. Fortunately, he was able to overcome it with his wife and his children's support.
Bono & Alison Hewson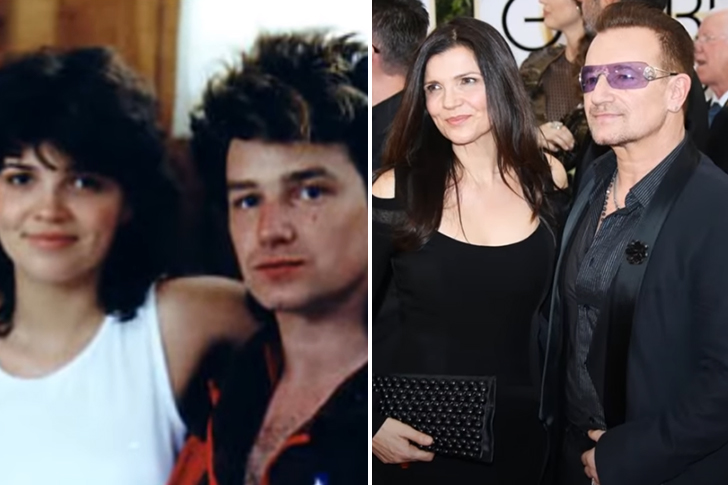 U2 band member and lead singer Bono has been with his wife, Alison Hewson, for almost 40 years now and the romance is still evident with how they look at each other. The singer reported that every time that he goes on tour, his family were always in good humor that he started to wonder why they weren't crying. However, it was all for fun as he found that his wife's elusive character has helped keep their romance alive.
Though Bono and his bandmates are used to the adoration that they get from their fans, they remain grounded, especially the singer, who has his family to thank for. The singer admitted that he has a wild side to him which might have gotten him in trouble, but his strong sense of survival has made him hold on to people just like what he is doing with his wife. The two are smart when it comes to money matters, and it may be that they have a financial advisor to help them out too.
Blake Lively & Ryan Reynolds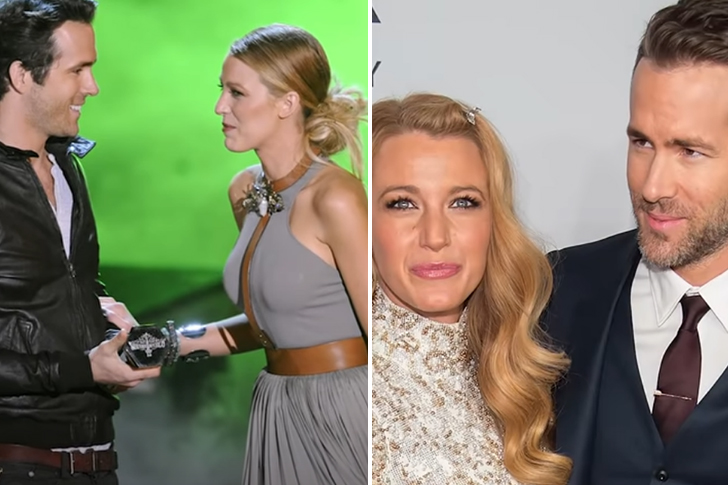 The romance between Blake Lively and Ryan Reynolds began on the set of The Green Lantern which they both starred in. The sparks flew when they went on a double date, but the actor admitted that it was an awkward date because they were with someone else. The couple credit their friendship to be the reason why they were able to have a great marriage because they see each other as their best friends.
The couple tied the knot in 2012 and now have three daughters between them: James, Inez, and Betty. The two kept their children out of the limelight to give them as much a normal childhood that they could. Lively stated that since both of them enjoyed a normal childhood they will do the same to their children. Robbing them of that will only be selfish on their part.
Beyonce & Jay Z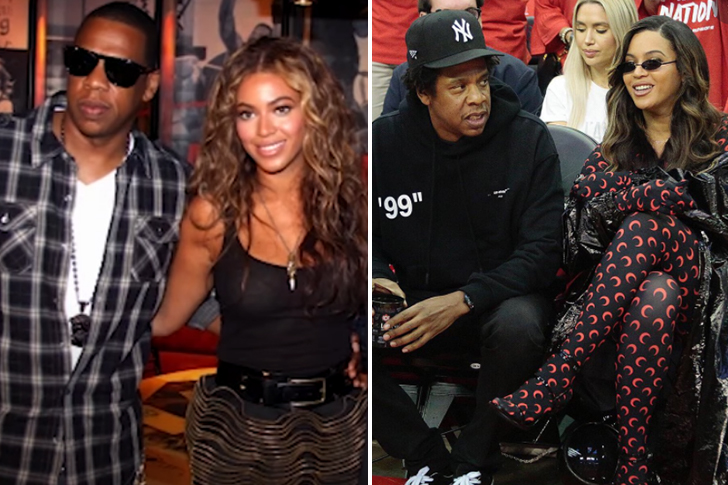 Beyonce & Jay Z are one of the hottest celebrities of today. The two are considered royalty in the music industry and with good reason. Jay Z is not only a rapper, but he is also a record producer. The couple kept their relationship private most of the time. They began dating in 2001 and started collaborating on music, which was a huge success. Their music seems to be inspired by their relationship. In fact, if you pay attention to their lyrics, you can tell that they are very much in love with one another.
Their wedding was intimate and quite private that the only time that their fans knew they tied the knot was when they picked up their marriage license. They now have three children who are growing up beautifully. With their impressive net worth, mortgage won't be an issue at all.
Barbra Streisand & James Brolin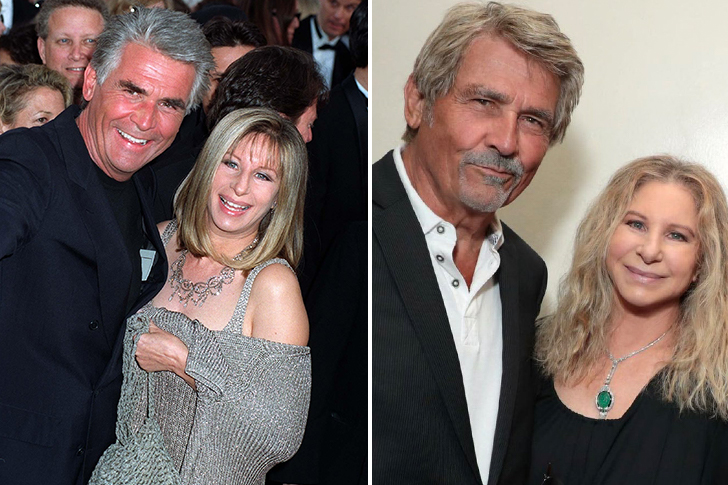 Barba Streisand and James Brolin seem to be a match made in heaven. Their meet-cute began when they went on a blind date. The singer, expected to meet someone who was all hair and muscular, but Brolin surprised her by appearing with short hair and was even clean-shaven. Her first question to him was, "Who screwed up your hair?". Later, Brolin admitted that it was at this point that he fell in love with her.
The couple exchanged "I do's" back in 1998 and are still very much together today. The actor has stated that their many years together have helped them work on their marriage even further, which is one of the reasons why they are still very much in love. Brolin stated in an interview that they both had fallen in love with one another again. The couple has used their investment money to secure properties which they are enjoying right now.
Anthony Hopkins & Stella Arroyave

Sir Anthony Hopkins is one of the most legendary actors of all time. His most iconic role is Dr. Hannibal Lecter, who he first portrayed in Silence of the Lambs. In addition to that, he has acted in many award-winning films and TV shows, with his latest being The Father in 2020, which won him an Oscar. Having a high profile in the industry, it is quite a refreshing change of pace to see him still together with his wife of nearly two decades, Stella Arroyave.
Hopkins first met her back in 2001 at an antique store. At the time, Arroyave was working as an antique dealer when the actor came into the store looking for some old furniture. They dated shortly after that first meeting. Two years later, they tied the knot in a star-studded ceremony in Malibu. Since then, they have lived quite happily. Hopkins has given credit to Arroyave for changing his outlook for the better.
Anne Hathaway & Adam Shulman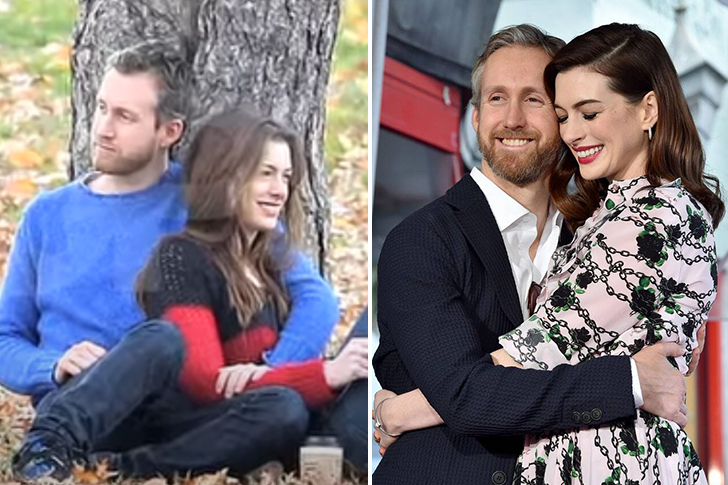 Anne Hathaway has been one of the most high-profile actresses in Hollywood, with appearances in Interstellar, The Princess Diaries, and Les Miserables. Despite this, she managed to maintain a very private personal life, but she has not been shy about showing her love to her husband of nine years, Adam Shulman. Shulman, a film producer and a jewelry designer, and Hathaway first met at a film festival in 2008. Immediately, the actress declared that she will tie the knot with him. True enough, after four years dating, they tied the knot in a low-profile ceremony in California, with Shulman designing Hathaway's ring.
Since their marriage, they have had two children. Hathaway credits Shulman for changing her for the good by giving her the confidence she needed. In addition, she said that her husband has been attentive, caring, and committed towards his children and that she called him a 'spectacular' dad.
Angela Bassett & Courtney B. Vance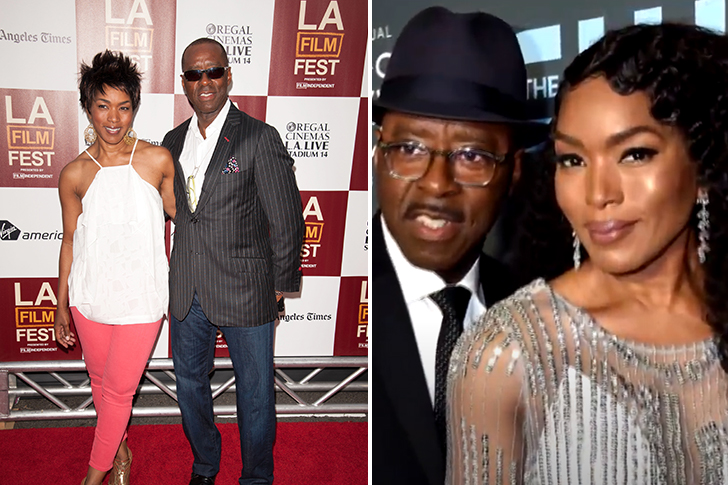 Despite starting very slowly, Angela Bassett and Courtney B. Vance have remained together for more than two decades. They first met during their time in drama school in the early 1980s. At the time, both were already graduating with degrees in their respective fields. However, their first meeting was just that, their first meeting, as Vance was dating someone at the time. Despite this, they remained friends for years. This all changed in 1994 when they started dating after crossing paths in Los Angeles. They started dating shortly thereafter. Four years later, they finally tied the knot.
Since then, they have had two children. Both Bassett and Vance have seen considerable success today as actors, with Bassett appearing in Black Panther and Mission: Impossible while Vance stars in Genius and Lovecraft Country. In addition to acting, they have also established their own production company called Bassett Vance Productions, in collaboration with ViaconCBS.
Amy Adams & Darren Le Gallo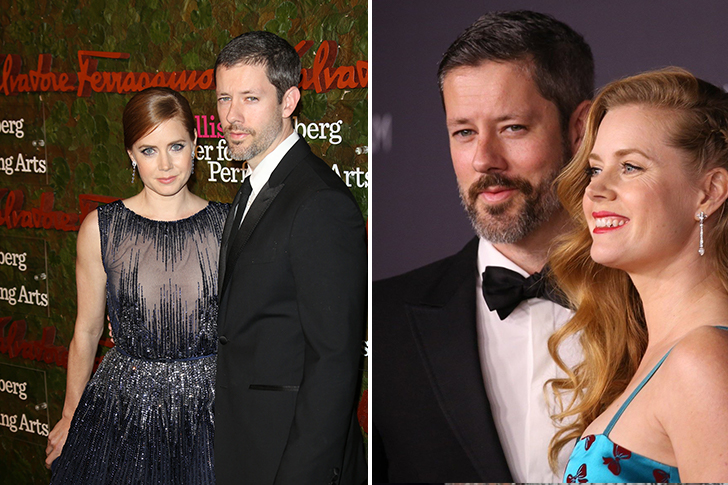 While actress Amy Adams has certainly been on fire as of late, her degree of fame may not be possible without the utmost support of her husband, Darren Le Gallo. The two of them first met way back in 2001 in acting class. A year later, they started dating. In 2006, they made their first public appearance at the Oscars. They upgraded their relationship in 2008 when they announced their engagement. Seven years later, they tied the knot. Together, they have only one child, daughter Aviana, born in 2010.
While Adams has since risen to prominence as an actress, Le Gallo has instead ended his acting career in exchange of becoming an artist. He has mostly produced visual art and music. Both Adams and Le Gallo have their own Instagram accounts. In there, they have posted a lot of tributes and throwback photos, which further added to the sweetness of the couple.
Adam Sandler & Jackie Sandler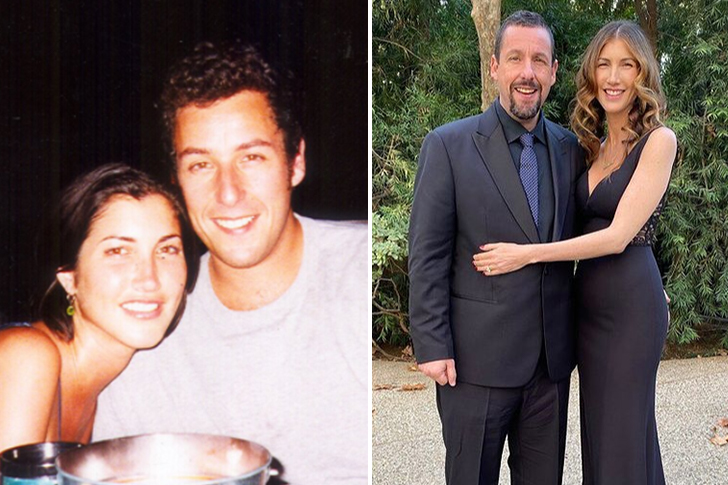 Adam Sandler is perhaps one of the most recognizable comedians today. He has acted in many films over the years, with his acting credits include Grown Ups 2, Jack & Jill, and Uncut Gems. Despite his hectic schedule, he has maintained his relationship with his wife of 22 years, Jackie. They first met back in 1999 during the production of Adam's movie, Big Daddy. At the time, Jackie was an aspiring model and actress who was trying to catch a big break. She managed to be hired in his movie. The two started dating after the movie was released in June 1999. A year later, Jackie became committed to the relationship by converting to his faith of Judaism. Two years later, they tied the knot.
Since then, they managed to have a low-key yet loving relationship. They have had two children, Sunny and Sadie. In recent years, Adam has professed his love for Jackie via posting throwback photos of the two of them on social media.
Adam Levine & Behati Prinsloo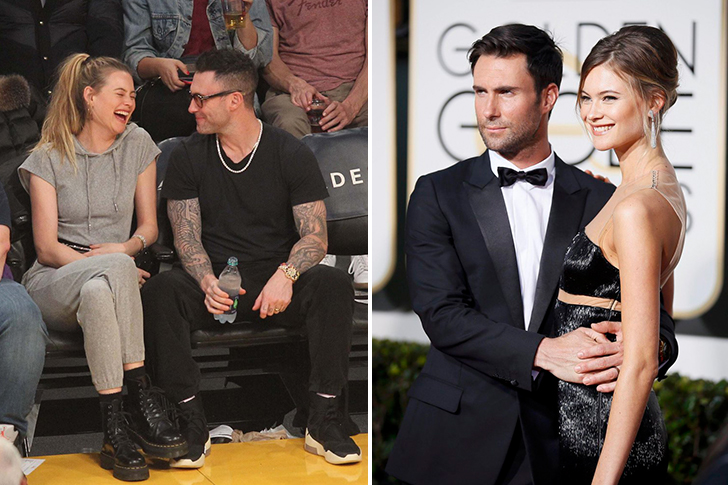 From the beginning to today, Adam Levine and Behati Prinsloo have been one of Hollywood's sweetest couples. They met back in 2012 shortly after the singer parted ways with model Anne Vyalitsyna. They met via email when Levine wanted to find a girl for his music video at the time. Despite an awkward start, they began dating thereafter. However, they hit a roadblock in May 2013 when both called it quits. However, they reunited two months later and announced their engagement. In July 2014, they tied the knot.
Levine is perhaps best known as the frontman of Maroon 5 while Prinsloo is a well-known supermodel. Since their marriage, they have had two children. Their first child, Dusty Rose, was born in September 2016 and was featured in Maroon 5's music video for Girls Like You, along with Prinsloo. The second, Gio Grace, was born in February 2018. Despite some hurdles faced in recent years, the couple managed to hold on, with their commitment to each other given credit for their unyielding bond.
You've Reached The End