These Fan-Favorite Celebrities' No Makeup Look Will Make You Look Twice
Celebrities always tend to look at their best, knowing many people are looking up to them. Therefore, they try to perfect their look with makeup and other beauty enhancements to always look pleasing in other's eyes, especially the public.
We know how judgmental other people can be today. With just a minor flaw or dirt, you may find your favorite celebrity a trend or viral on social media for not looking 100% beautiful.
However, despite society's belief in the impossible beauty norm, several artists bravely defy the Hollywood beauty standard, and they get fans' support.
Without the degree of heavy makeup on their face, these stars prove everyone is beautiful—they have to be confident of their skin.
Who are they? Let's find out!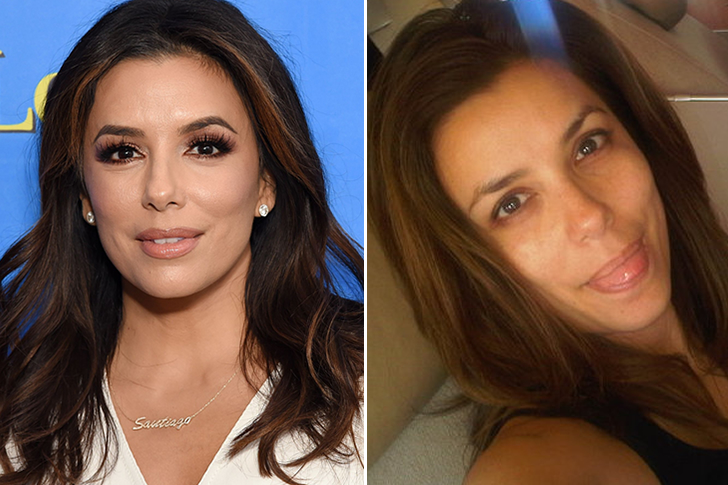 1. Eva Longoria
No one can deny how beautiful Eva Longoria is with or without makeup. Sure, we can often see her looking so glamorous whenever she's out or about, but she's not afraid to show her bare face.
She has been showing a no-makeup look here and there, and she looks a lot younger when she's makeup-free. Despite her love for beauty cosmetics and hairspray as a pageant girl, she, at least, knows how to live without these things.

2. Nicki Minaj
We are so used to seeing Nicki Minaj with heavy makeup on her face, paired with colorful wigs, especially when she's just starting in the business. However, things have soon changed. The famed rapper eventually toned down and opted for a more straightforward look, though she still wears full makeup sometimes.
To give a full glimpse of how she looks without any color on her face, she shared a set of throwback photos of her makeup-free appearance. The degree of her beauty doesn't change at all! In fact, she looks every inch pretty either way. Minaj is beautifully stunning indeed.

3. Gabrielle Union
Gabrielle Union is also one of the stars who are not afraid to show her fresh face on social media. When she posts a photo of herself looking very simple without makeup, she gets nothing but heaps of praise.
She proudly shows her freckles that are usually hiding behind the heavy foundation. In another post on Snapchat, Union mentions Alicia Keys, who vows not to wear any face cosmetics anymore. Does this mean she is following in the singer's footsteps?

4. Megan Fox
Her full red lips always caption everyone's attention, so when Megan Fox goes makeup-free, she proves she's naturally beautiful. The 35-year-old star is now following the mantra "less is more" when it comes to beauty so that fans will see more of her face without makeup.
She even told Girls Talkin Smack she loved to keep her makeup fresh, looking clean and pretty as she walked the flooring of any red-carpeted events.

5. Adele
Adele has made the cat-eye makeup her signature look since she started in the business. Though she usually wears heavy eyeliner and contour on her cheekbones, she's also not afraid to ditch her makeup to have a simpler appearance.
Adele is truly a beauty even without makeup, making her a total package with her golden voice.

6. Sofia Vergara
Another stunning star on the list is Sofia Vergara. Sure, she always rocks a complete makeup look, but she equally looks stunning without it.
Her fresh face makes her years younger, credits to her knowledge about makeup. The Modern Family star told Redbook she's been wearing the same shades all her life as she knows what looks beautiful at her age. She now often opts more for brown eyeliner from black, probably making a new investment for new makeup sets.

7. Kathy Griffin
Although Kathy Griffin has been making fun of herself, she's not messing up with her looks. Her makeup and outfits are always on point—and she also knows when she will go makeup-free.
Griffin has been proudly showing off her fresh face here and there, not minding what anyone will say. Though she may get second looks at times, do they think the famed comedian cares at all?

8. Lady Gaga
Lady Gaga doesn't only make a name in the business because of her beautiful voice. She manages to get everyone's attention with her bold and eccentric look. The hitmaker seems not to know how heavy makeup is as she even makes it her iconic style.
Who can ever forget her award shows' appearances? No one, we bet, so when she shows her nude face, she looks every inch unrecognizable though still gorgeous.

9. Katy Perry
What's with dark eyeliners? A lot of pop stars have been wearing heavy eyeliners, including Katy Perry. Mind you, despite the full makeup she wears, she's still going bare face at times.
Perry's beauty looks every inch natural, and no one can deny it. Moreover, this may be why CoverGirl gives her her own makeup line, which her financial advisor indeed approves.

10. Anne Hathaway
Anne Hathaway can freely go makeup-free whenever she wants. However, as fans usually see her wearing red lipstick and heavy foundation, she may look unrecognizable.
Hathaway probably doesn't mind it at all. She's undoubtedly confident of her appearance, especially with her glowing skin, knowing she won't be Anne Hathaway for anything.
Materials used are based on CheatSheet